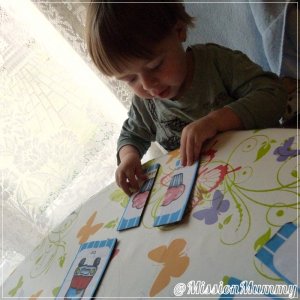 This week's tot-school…
…ran out of activities!
Letters seem to be coming up so fast and yet Adam is far from gripping those he's already been introduced to. With his knowledge of shapes, colours and numbers expanding rapidly, without any tot-school planning, this week we tried to spend some time recapping letters we have covered already. There was a real focus on matching more detailed items. As part of this letter focus rather than a colour we used the circle shape, one he already knew. I was hoping this would tie into the shape of the letter C as well as expand the activities beyond letters and colours.
I did find myself running through activities really quickly this week. We've already abandoned some things that just seem to be far too advanced for him and added in some extra word to letter association, but I'd underestimated how many activities he'd want to do each day. It seems 4 is his magic number with at least 2 being new activities, not the 2-3 I had pre-prepared… Wednesday ended when there was nothing new ready to do!
This weeks read more Questions:
I started by doing a lot of browsing, reading well known totschool sites like 1+1+1=1 and totschooling.net as well as searching through google and pinterest. I usually start with the 1+1+1=1 sheets and add in pieces from other sites or my own library. I've obviously clicked with some materials more than others but generally I go by feelings – Would Adam be attracted to this page? Would he understand these instructions? Is this sufficiently different from the other activities? etc.
Adam loves the Cbeebies show – Bing – and some months ago I made him cards with each of the characters to help him develop his new found skill of matching. This week we used the fruit game I'd imitated from the show. It was an activity that boosted vocabulary and included his letter sound – C for carrots. We also used cars because he loves vehicles. We usually tend to go for shows with stories rather than those that nightlight concepts such as letters and numbers.
Week 3 : Letter – C + Concept – Circle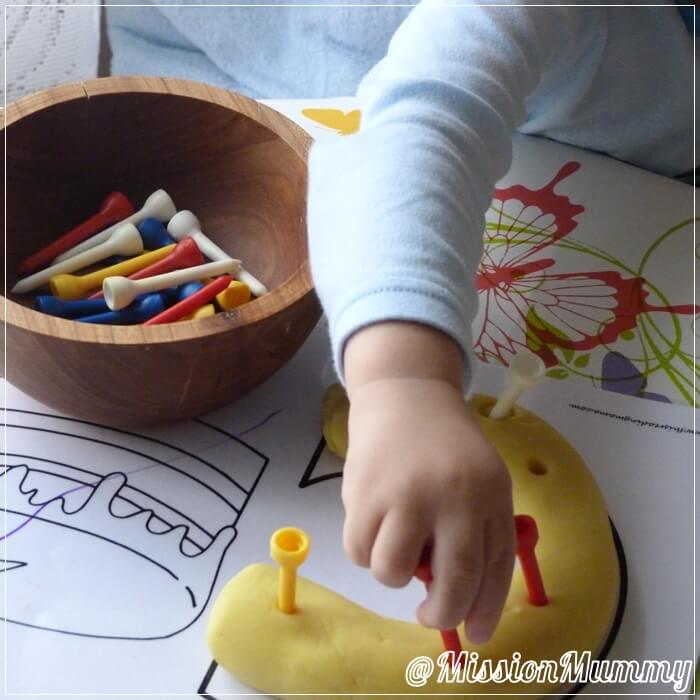 Monday (control skill : none)
Play-dough and golf tees on letter sheets gave us some variance on pens. I made a long 'C' shaped snake and Adam followed my lead by covering it in golf tees. While this was good fine motor practice he didn't really click with the letter so after what seemed like forever playing with the golf tees we went back to the markers and got out the threading card for some word introduction.
1) Play-dough + plastic golf tees
2) Letter plus image
3) Threading card
Tuesday (control skill : letter recognition)
Morning guests meant breaking out the paint early for animal dot pictures. When totschool time came around we used the beautiful car and letter wheels from pre-K-Autism to spend some time recognising the difference between the 3 letters we've covered so far by making the wheels match – then we zoomed the car across the table. The requested paints were more focused this time with find the letter and fill the letter dot sheets.
1) Dot painting – animals
2) Dot painting – Letter plus image + find the letter image
3) Car and letter wheels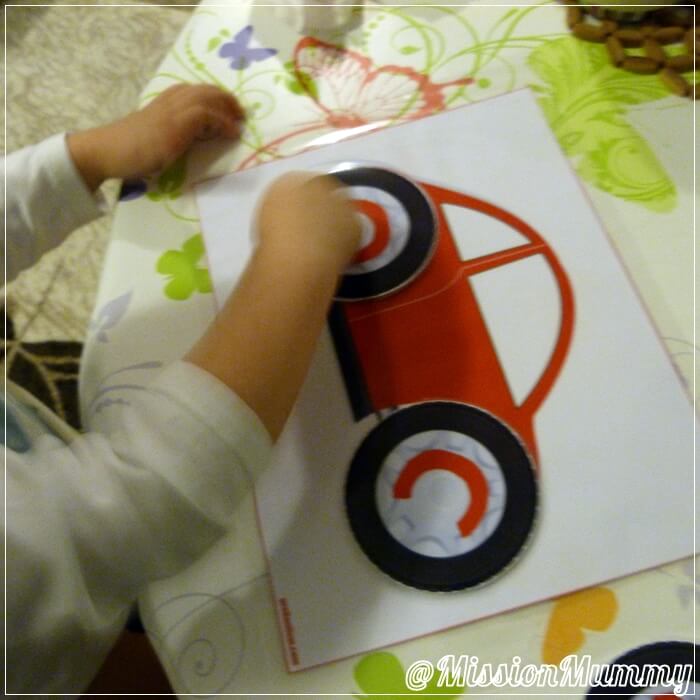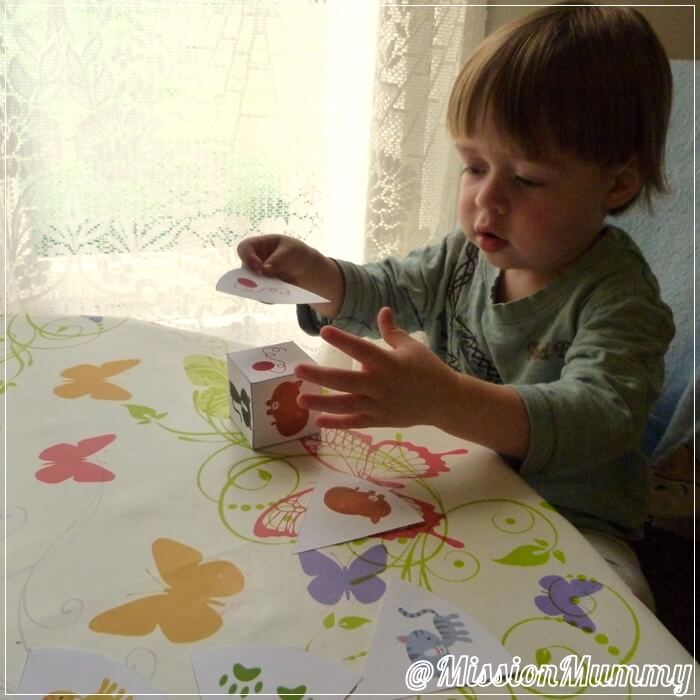 Wednesday (control skill : matching)
Looking at the details was needed with the cat die (dice) in order to match the image with a picture. Rather than throw or roll the die he chose to first pick up the picture and rotate the die to find the 'match'. The sight of buttons made his face light up. Equally he's loving the 2 piece jigsaws that he does very independently. We also tried the paint pallet which I'm going to suspend as he still can't open pegs.
1) Dice and images
2) Button placement
3) 2 piece jigsaws
4) Pegging letters
Thursday (control skill : shape recognition)
We tried the shape sorting today with a circle (a shape he knows) alongside a square (just for contrast) and had a lot of success. We also revisited the play-dough and golf tees and tried some stamping using a sorting toy's shapes. Mummy stamped ABC and a few circles then Adam added a lot more circles and even tried some of the other shapes. Meanwhile mummy coloured him a letter hat as a fun vocabulary builder.
1) Play-dough + plastic golf tees
2) Shape sorting – circle + square
3) Stamping with toys – A, B, C, circle, square, triangle
4) Letter hat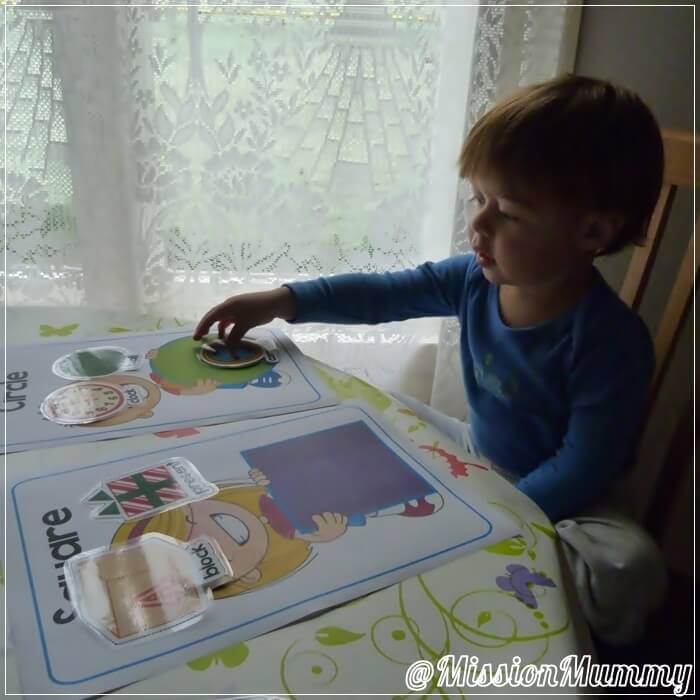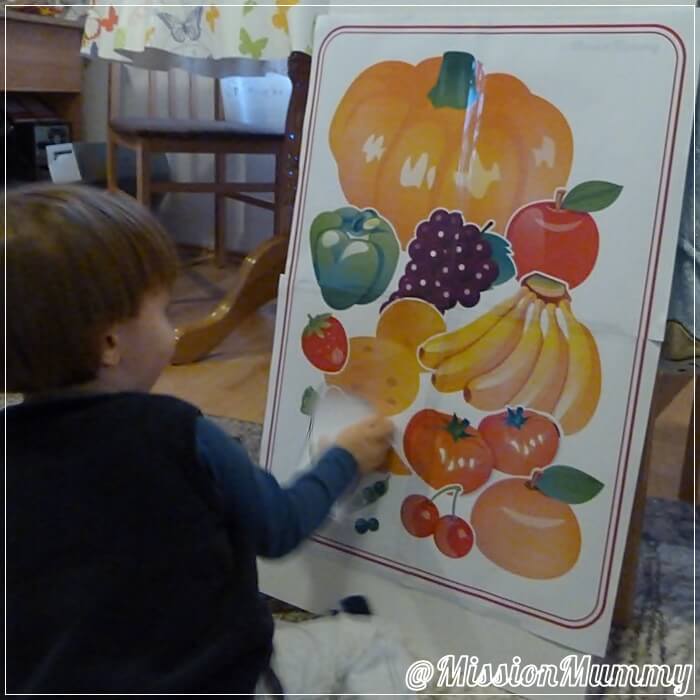 Friday (control skill : recap)
Friday found me sorting the paperwork at the table during totschool, which translated into Adam wanting to do every activity he'd covered. Hats were worn and pens uncapped, even if fleetingly. The buttons and shape sorting definitely came out as the two favourites as well as matching the 3d felt letters to other 'C's. The picture of a carrot prompted mummy to get out the Bing fruit match game and Adam surprised us with how much vocabulary he already had.
1) 3d felt letters
2) Button placement
3) Shape sorting – circle + square
4) Bing fruit match game
Next week: the letter D comes roaring with Dinosaurs and probably more too!
Linking up with 1+1+1=1 : Round like a circle ~ Letter C {23 mos.}
Advertisment
One response to "Tot-school | Week 3 | Letter C & Circle"