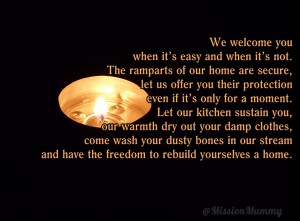 Last night we lit candles. The sky flashed as the rain disturbed the hot dust and thunder rolled from somewhere unseen. The flickering lights would protect us from electricity outages that the storms so often bring. By the time my boys had fallen to sleep one lone flicker remained, a refuge in a dark house. Across Europe thousands of candles flickered in windows, candles of hope and refuge, candles of warmth and welcome to the thousands more who would spend their nights without homes. It was a protest of welcome.
We welcome you, weary soul, frightened heart and fragile footed. We open our doors and invite you in. Your presence scares us, stretches our hospitality, disturbs our feeling of security and forces us to adapt. We welcome you when it's easy and when it's not. The ramparts of our home are secure, let us offer you their protection even if it's only for a moment. Let our kitchen sustain you, our warmth dry out your damp clothes, come wash your dusty bones in our stream and have the freedom to rebuild yourselves a home.
We invite you to stand in our crowds not of desperation but celebration. Come and sit upon our sofas and talk of need and plenty, watch your children run for toys and giggle with friends. Let us shed tears with you for your loss and delight in your achievements. We welcome you from homelessness into community, this is our home, become part of the 'our', take ownership of it, for we offer it to you as a gift.
Advertisment