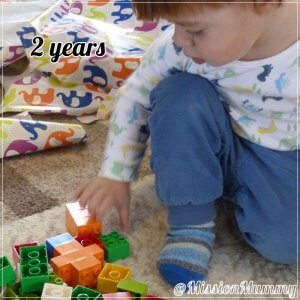 Last month Adam turned two.
We bought him Lego Duplo which mummy and daddy Adam is having lots of fun with.
I loved Adam's first birthday party with the hordes of people and the slight chaos of having so many non verbal kids in one room. I loved the homely feel and seeing Adam's toys being really well used. I loved making decorations and laying the table with the dream of a pinterest worthy spread. It was hard work. This year I couldn't face it.
Instead we hired a soft play place, got a friend to make a simple cake, and left the staff to run after the kids (for the few minutes they let us out of their sight). I figure he won't remember so we didn't need fireworks on the cake (potential scare averted), or party games, or pretty decorations around the house that he'll probably just wreck. It was bliss and without all the frills of a party to purchase it wasn't as crazy expensive as expected. I'm well aware this level of ignorance won't last though.
Now we have a very verbal toddler, with all the associated energy we are having real fun exploring the things toddlers do, like jumping in puddles and pretend housework. Every object is a new word, perhaps 2 and he's eager to soak them all in. The world is there to explore and discover. Mummy still struggles with the question of nursery, with the lack of peer play, it's a tough call either way.
And so you'll find us at the train set, or building blocks. We may be scribbling over pictures beginning with a given letter or dancing about to whatever music comes our way, or no music at all.
Advertisment