This past week's tot-school…
…was our normality.
Embarking on the second half of the alphabet Tot-school has become quite a part of the life of the house. Adam's desire to learn more and more is evident in his choice of video material and in the snippets of the alphabet song he sometimes sings at nap time. He's long enjoyed sifting through magnetic letters and now he names both numbers and letters, lifting up ones he doesn't recognise for us to identify.
For the letter N I initially chose to work with nails and nose. What emerged quickly was that while nose worked nails didn't. Sighing at the shelved paperwork I tried our secondary concepts of nuts and necklaces and both went swimmingly. This week I made less pages for the pack but still had spare, it's a balancing at I'm still wobbly on.
The pack I've made is available for download at the end of the post.
This weeks read more questions:
The big taped latter on the ground, N is a brilliant shape to balance along.
Nails. I had great plans of exploring real nails but i left sourcing them to too late and with our love of throwing right now it felt a foolish choice.
I coloured half a bag of large macaroni using a few drops of liquid food colouring and a tablespoon of white vinegar, repeating with the other half and a new colour. I've tried this and rice before but this time I used a Tupperware tub rather than a plastic bag and it was so much easier and less messy.
Week 14 : Letter N
* denotes custom resources available as part of the pack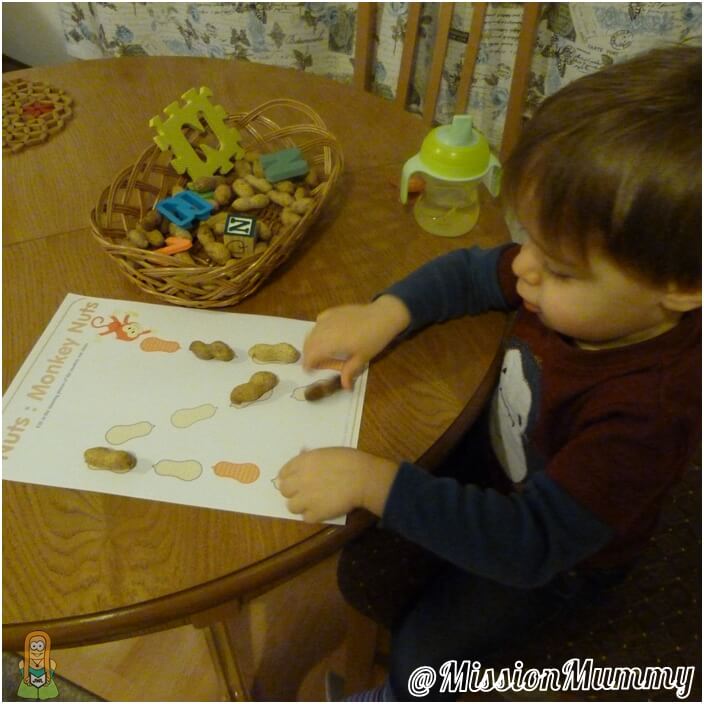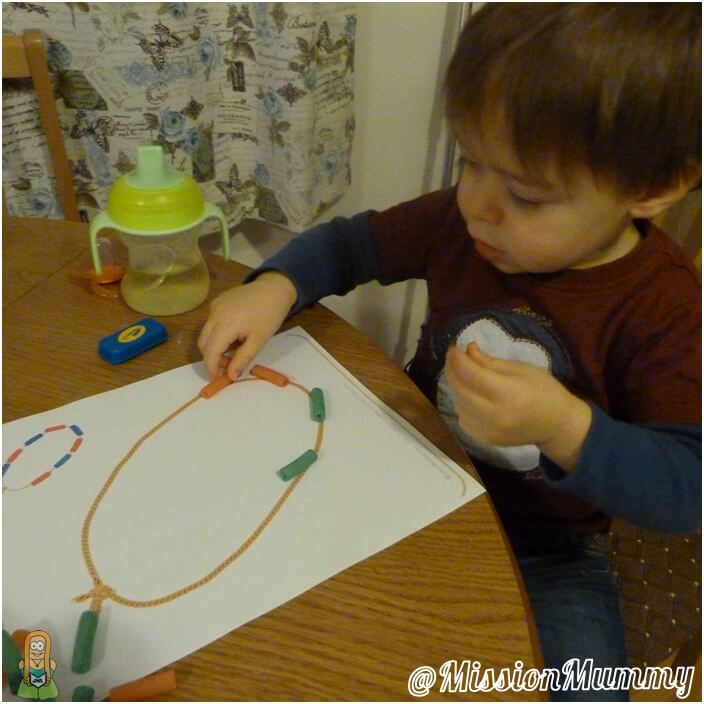 Monday
Our letter basket was a bit spartan this week, mostly letters themselves surrounded by a couple of handfuls of monkey nuts. I'd made a monkey nuts page where we spelled out the letter using these and it was a lovely introduction to start with. From there we visited our letter tracing mats. I've found Monday we often get interest for an additional activity so I'd made some coloured pasta and starting with the placement page and then string we made necklaces.
1) Letter basket.
2) Monkey nuts placement page *
3) Capital and lower case letter tracing mats
4) Necklace patter page and threading *

Tuesday
Letter and image pages have been a mainstay for us and today I tried to introduce both but only the nose one took. Leading on from this we used the face play dough mats from picklebums and a variety of shapes and objects for noses. We had great conversations about the number of eyes to add and the shapes of the nose, particularly the orange shape that looked like a carrot. We then used our foam shapes to fill a letter 'N'
1) Upper case letter and image page *
2) Play dough mats *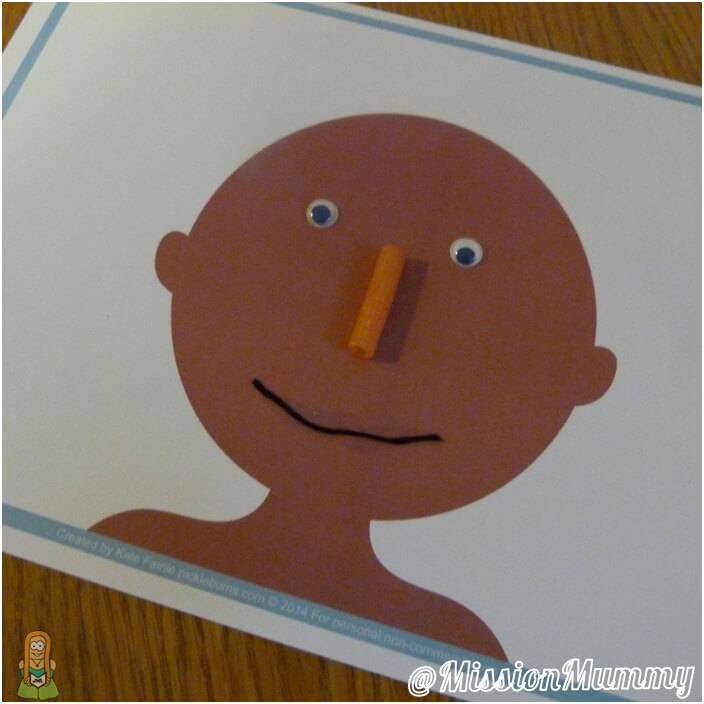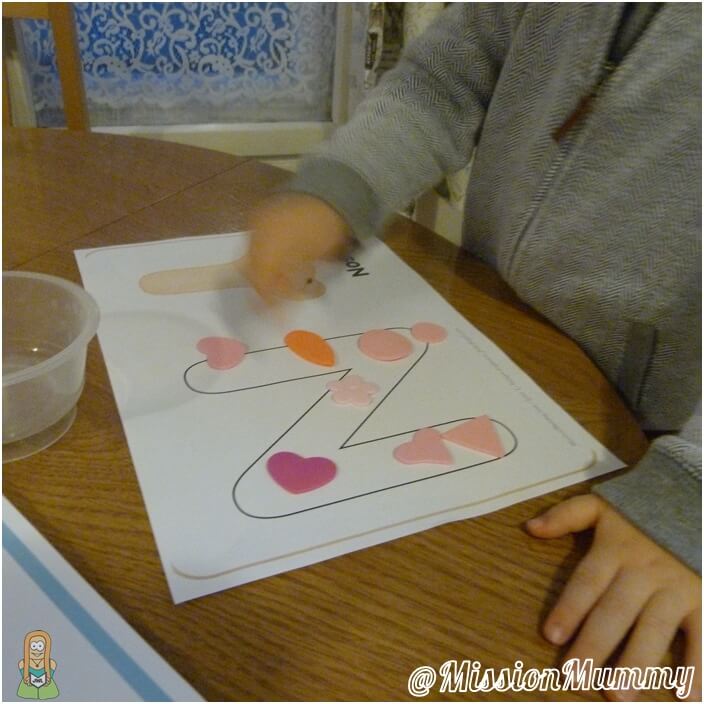 Wednesday
No totschool today.

Thursday
Today we broke our tot school into 2 parts. In the morning we made a huge letter N on the floor and practised balancing along it and saying the letter. I'd only made the lines as wide as my food so turning needed concentration. As we usually fill our letter I grabbed the overflowing tin of bottle caps we're collecting and used them to make the 'N' really colourful. Later that day we revisited the idea of nose with our shifting nose craft, this time rather than being abstract and using shapes I chose to use more realistic looking noses.
1) Floor letter
2) Shifting Nose craft *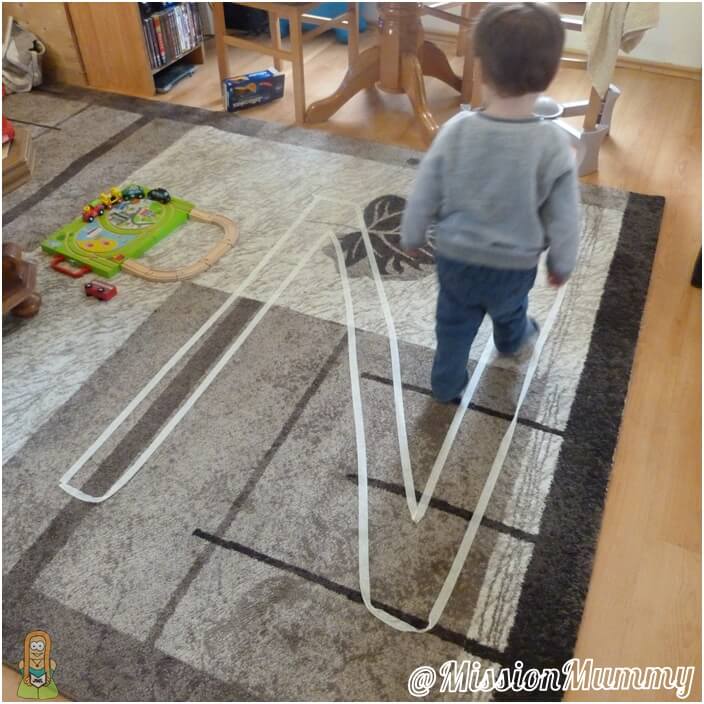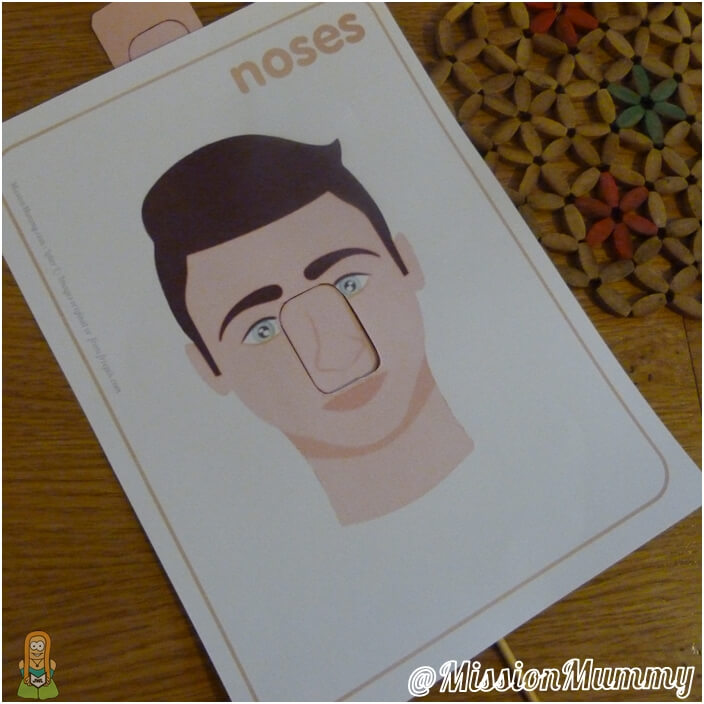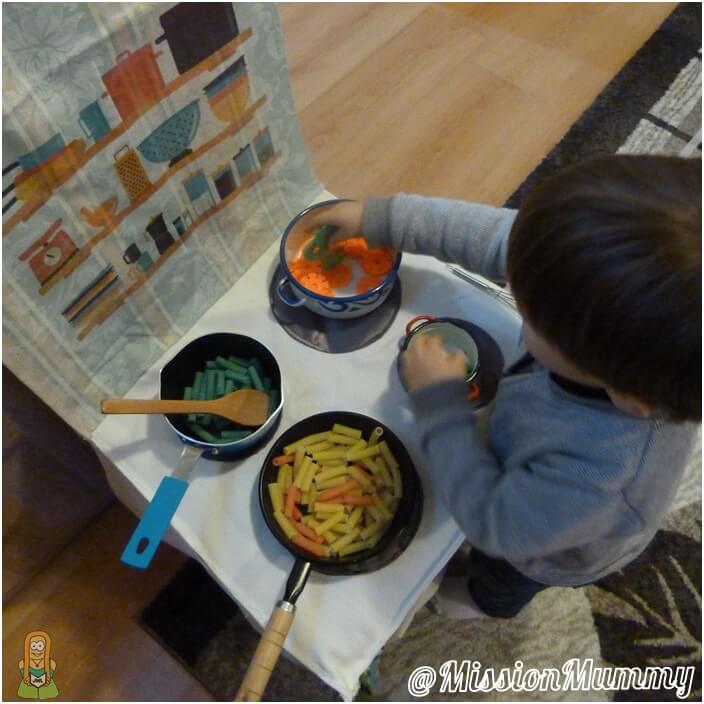 Friday
With a doctors appointment and a trip to a new soft play place after, tot-school was edged out of it's normal slot. In preparation for next week's letter O we got out the play kitchen with 'oven' and had a lot of fun with our necklace pasta making food.

Saturday
Huh? Saturday? Again. This was not planned but too many missing days meant we stretched our week once again and used Saturday as a review day making the letter spinner and working our way through the picture match pre-writing page. *
1) letter spinner *
2) N Picture match *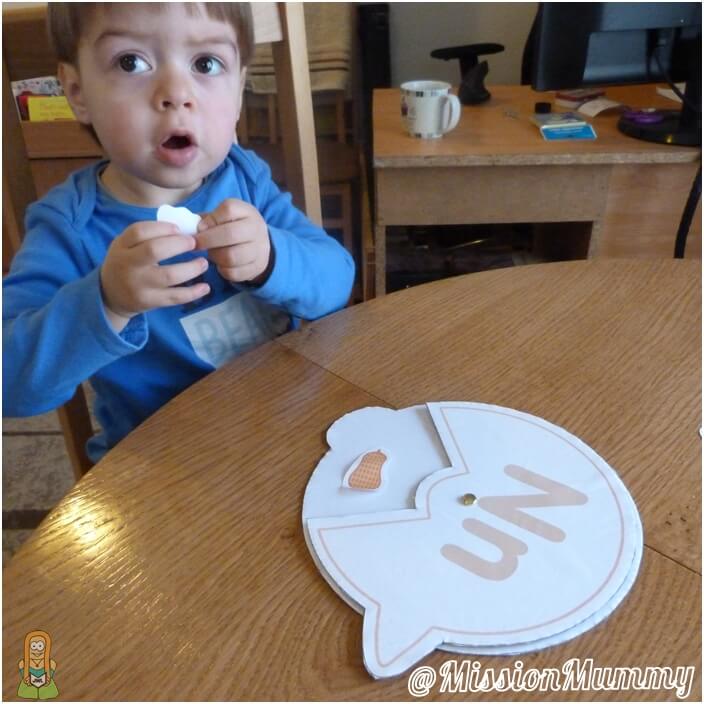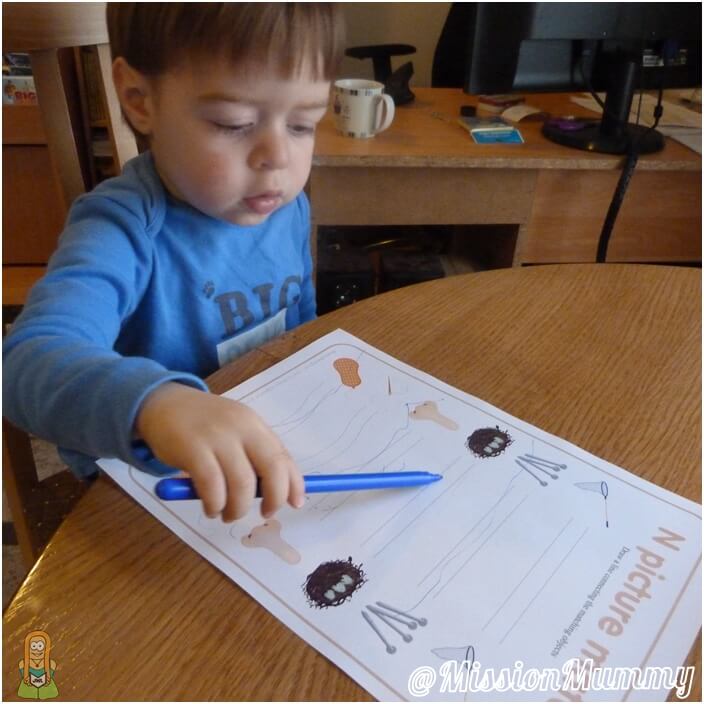 Here is the preview of the pages in the pack I made- Click on the button below for the download. Do let me know what you think – I'd love your comments!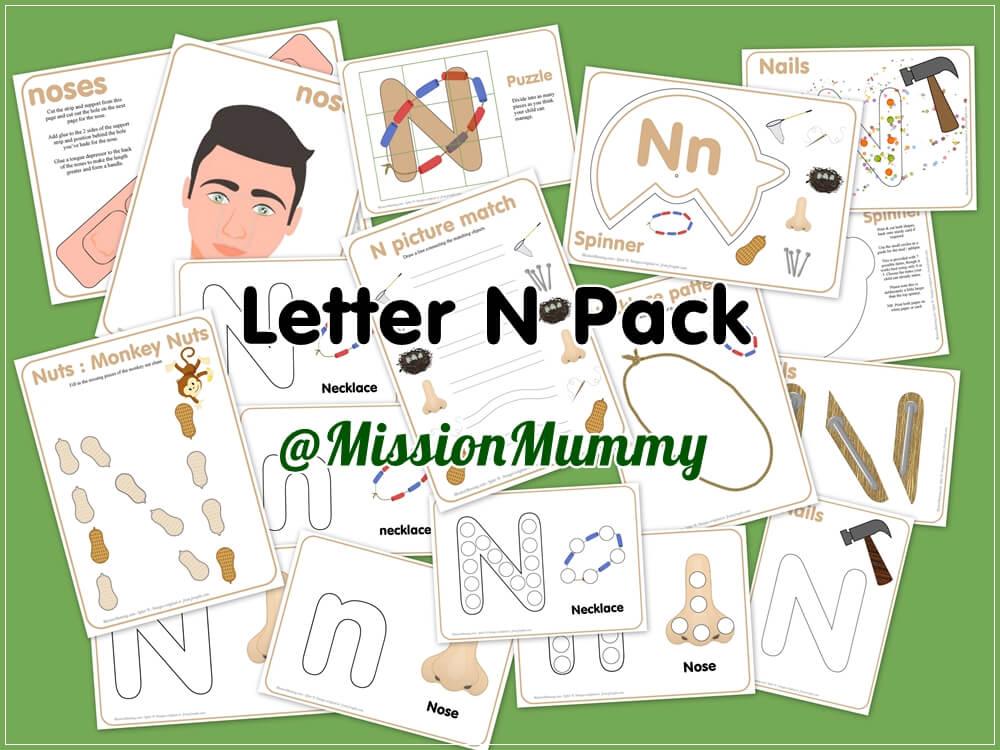 Linking up with 1+1+1=1 : Necklaces & No fuss ~ Letter N {26 mos.}
Advertisment