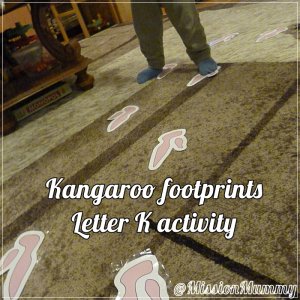 This week's tot-school…
…was hopping!
There is something heartrendingly adorable about the way Adam says "Kangaroo-u" and we heard that a lot this week. It was a really popular theme and let us do a nice range of activities, coupled with the ever popular kite, one of which we hung up in the room to play with, the letter 'k' was well cemented. While our tot-school sessions were short we covered all the major bases and on Friday we let tot-school slide as we put up the Christmas tree lights and explored the model winter village.
This is our last week of tot-school before breaking for Christmas. I hope to do some Christmas related activities before our Christmas travels but we'll not be concentrating on a single concept. Hopefully we'll launch back into the alphabet sometime in January.
The pack I've made is available for download at the end of the post.
This weeks read more questions:
Without a doubt it was the kangaroo footprints. We printed four sets and taped them to the carpet then spent a crazily large amount of time taking turns jumping like a kangaroo! It was also great to play with a real kite!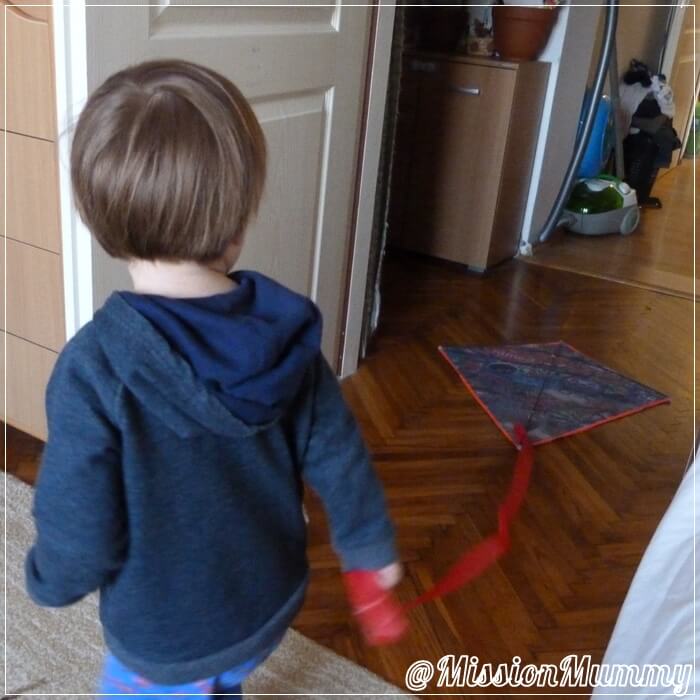 The kangaroo craft was tough slog. I tried twice to introduce this to Adam and though he recognised what it was and what I was asking him to do the interest wasn't there.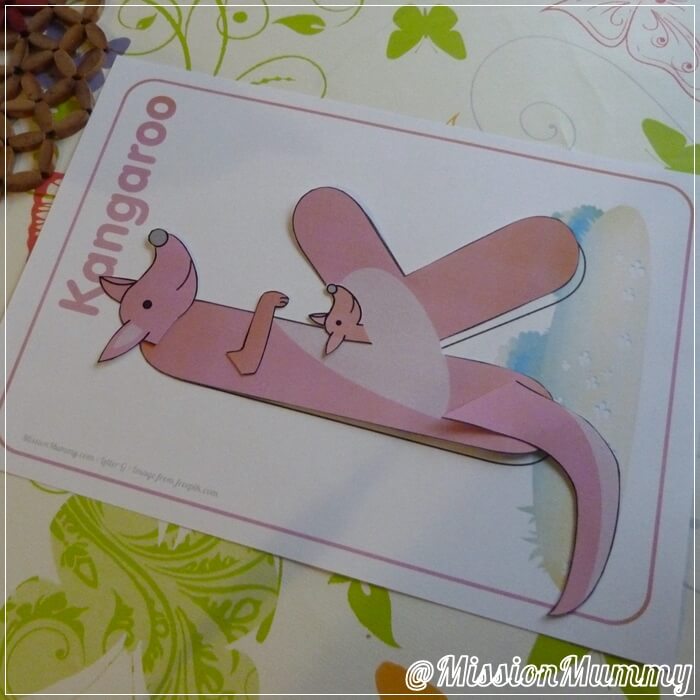 Decorations come out on the first of December (Thursday this year). We have 2 Christmas celebrations, the first is the more widely celebrated Advent run up to the 25th of December, the second is the orthodox date of January 7th. As 12th night falls on Orthodox Christmas eve it can feel like an endless celebration. We will travel to see grandparents for whichever Christmas celebration they hold a greater ownership for. Rather than do a letter based tot-school I'm hoping to make some Christmas decorations with Adam and perhaps do some Christmas themed activities.
Week 11 : Letter K
* denotes custom resources available as part of the pack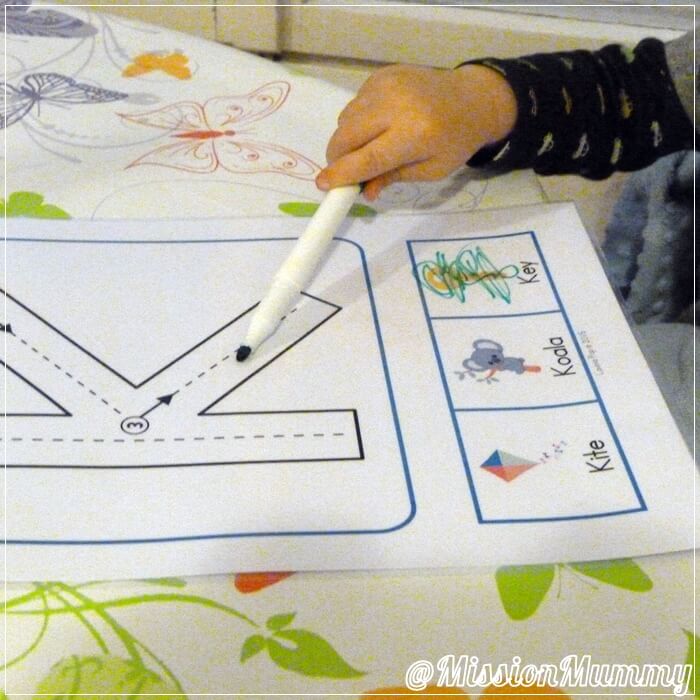 Monday
As usual we kicked off with the letter tracing mats, before bringing out our wipe clean letter plus key image pages where we easily identified the kangaroo and kite. I had a tray of mixed buttons out so we used those with the do a dot pages while Mummy cut out the kangaroo footprints. The footprints were a huge hit and remained on the floor for some days being jumped onto. (see video)
1) Capital and lower case letter tracing mats
2) Upper case letter plus image *
3) Lower case letter plus image *
4) Letter and kangaroo dot page *
5) Letter and kite dot page *
6) Kangaroo footprints *

Tuesday
Early morning and the kangeroo buttons page was requested. Once we got to Tot-school time Tuesday is becoming our letter spinner day. If you've not done one yet then it's a lovely way to not do flashcards but get similar results. Adam chooses which items to stick onto the spinner and once completed we review them together. With Adam nice and calm I tried the pre-writing picture connect page and this week I've added a couple of curved lines which were the only ones he tried to follow typically. I tried to introduce the kangaroo craft but he wasn't interested so we used the foam number pieces 1-6 before he wanted down from his chair.
1) Letter and kangaroo dot page *
2) Letter spinner *
3) Picture match page *
4) Foam number puzzle pieces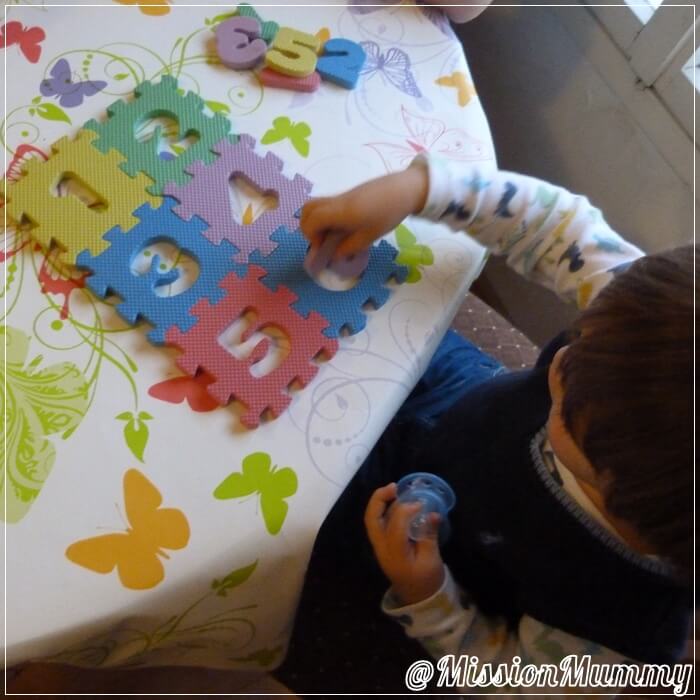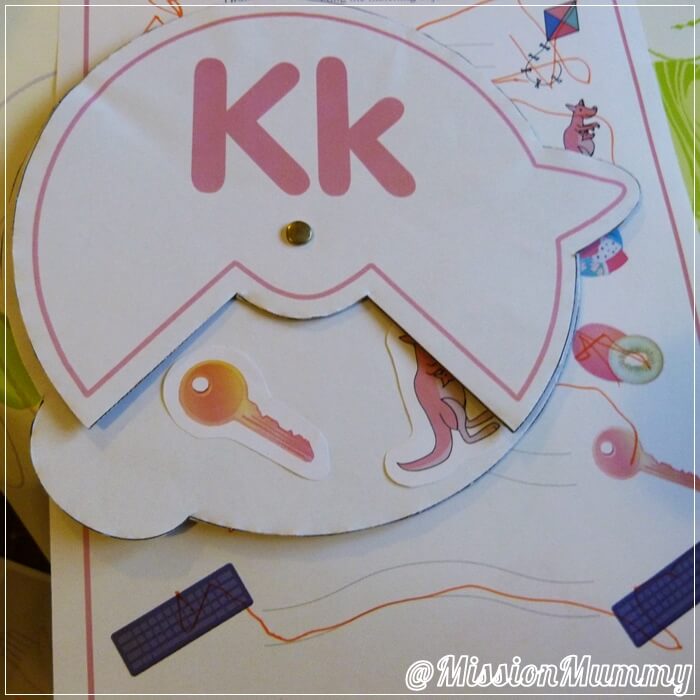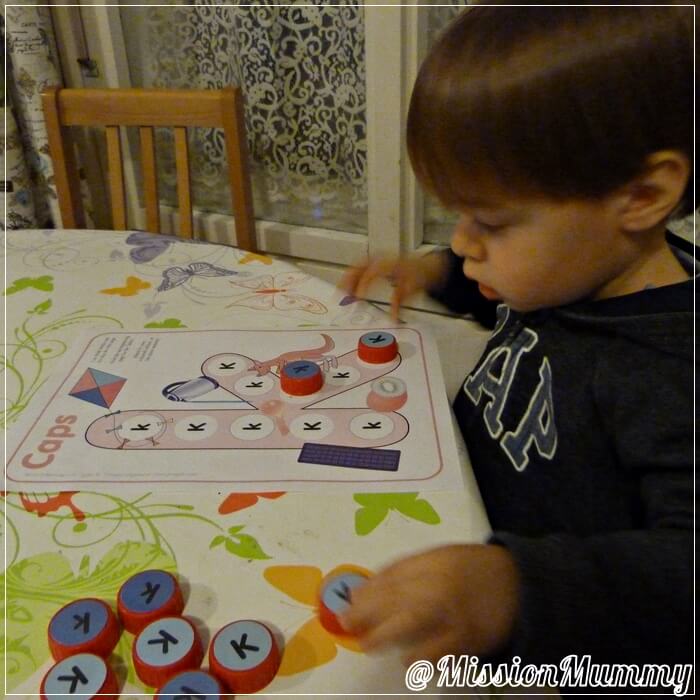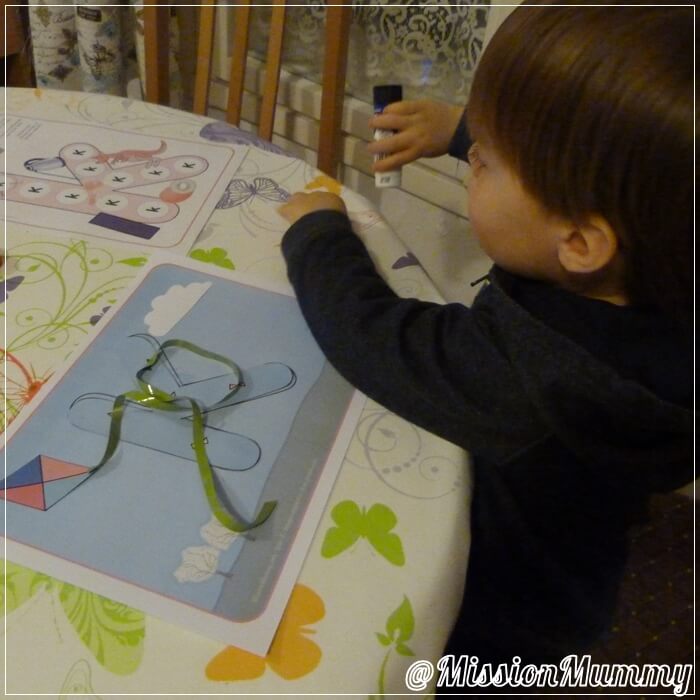 Wednesday
Today I tried to focus on kite over kangaroo by hanging a full sized kite up in the main room – it worked! When we had finished waving it about and running through the house with it we settled to table work. As buttons had been such a hit recently i decided I'm make a special buttons page with circles big enough for bottle caps. This was a nice change, and while the caps weren't as interesting as buttons Adam loved how the page was covered in pictures he could name. Moving on we made up the kite craft page which was a 40/60 job where mummy did 60 percent of the work while Adam sort of supervised! After tot-school we sat on the sofa and went through our blue presentation book which holds a couple of pages of each weeks work, it was great to see how much he has retained.
1) Caps match page *
2) Letter 'K' for kite craft *
3) Kite play
4) review past weeks display book

Thursday
December greeted us and while Adam napped I pulled out his felt Christmas tree and the model Christmas village. I tend to put decorations up slowly, a little each day. In our Christmas box I found some little white bells that fit perfectly inside the bottle caps and so we started off with yet another placement activity. From there we did the 9 piece jigsaw that was kept basic by leaving it 3 straight pieces, then completed the kangaroo craft. With all the major pieces of the K week covered I packed it away.
1) Caps match page *
2) 9 piece Jigsaw *
2) Letter 'K' for kite craft *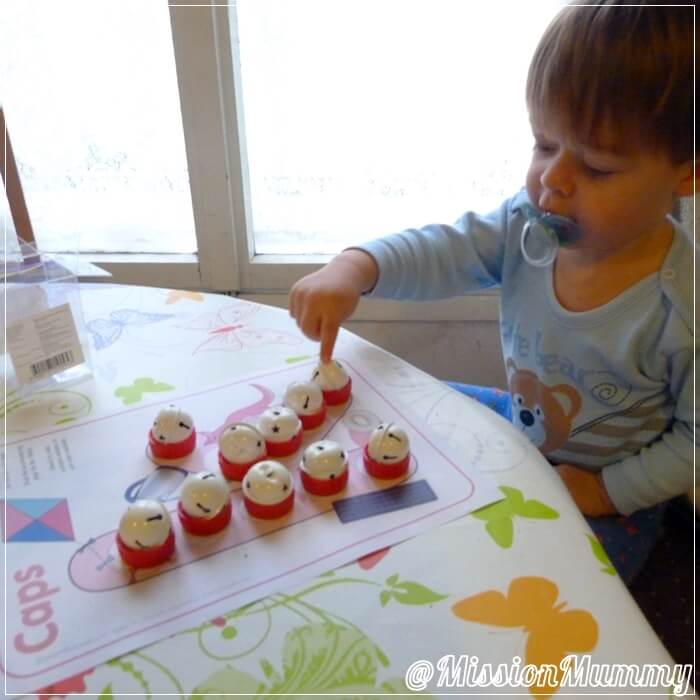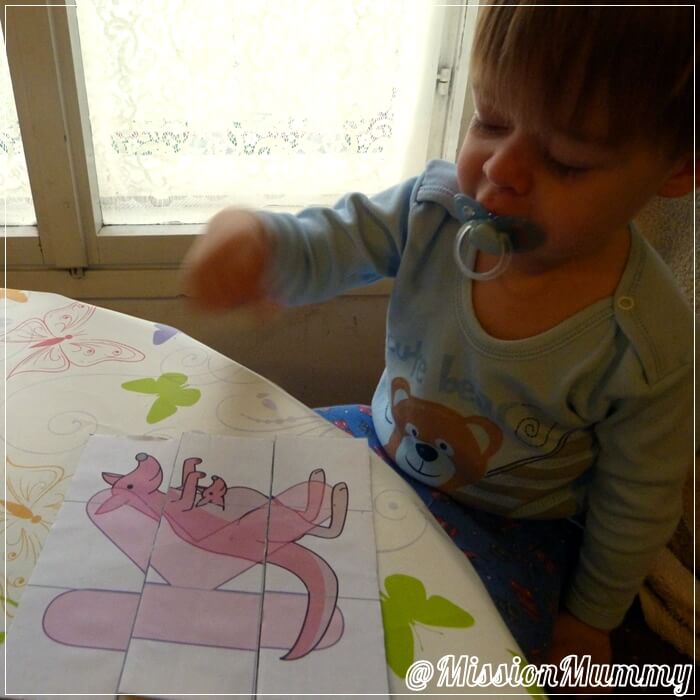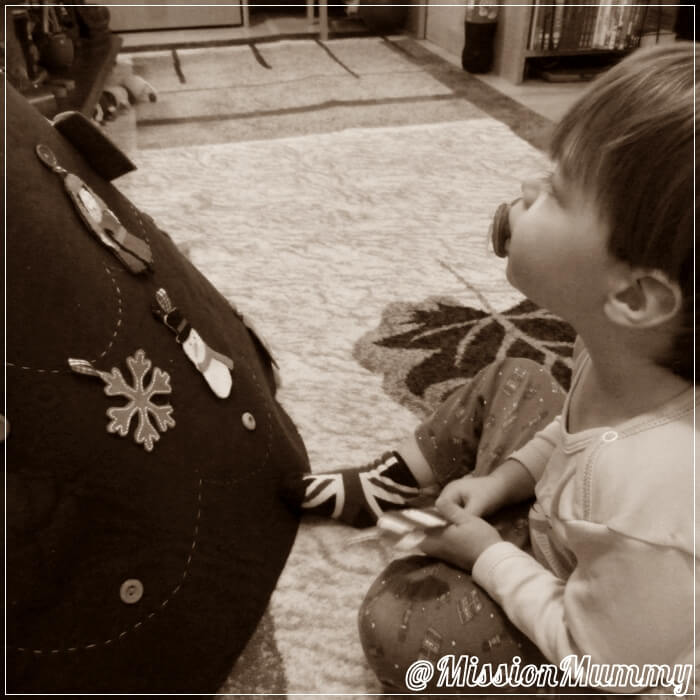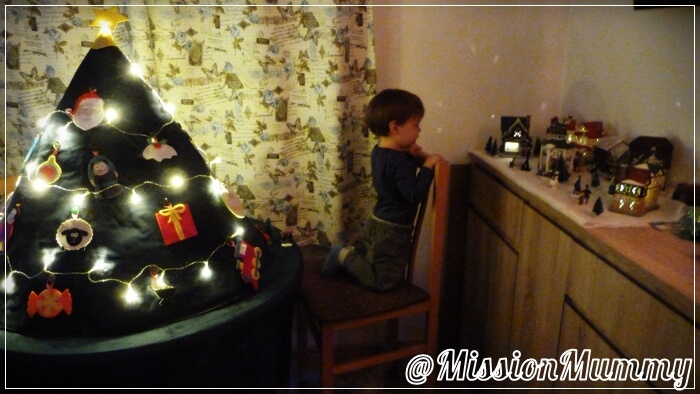 Friday
No Tot-school for us today, instead we marvelled at Christmas decorations 🙂
I made Adam's felt tree last year, one decoration a day through December. It's a great alternative to a real, fabric or plastic tree for us this year.

Here is the preview of the pages in the pack I made- Click on the button below for the download. Do let me know what you think – I'd love your comments!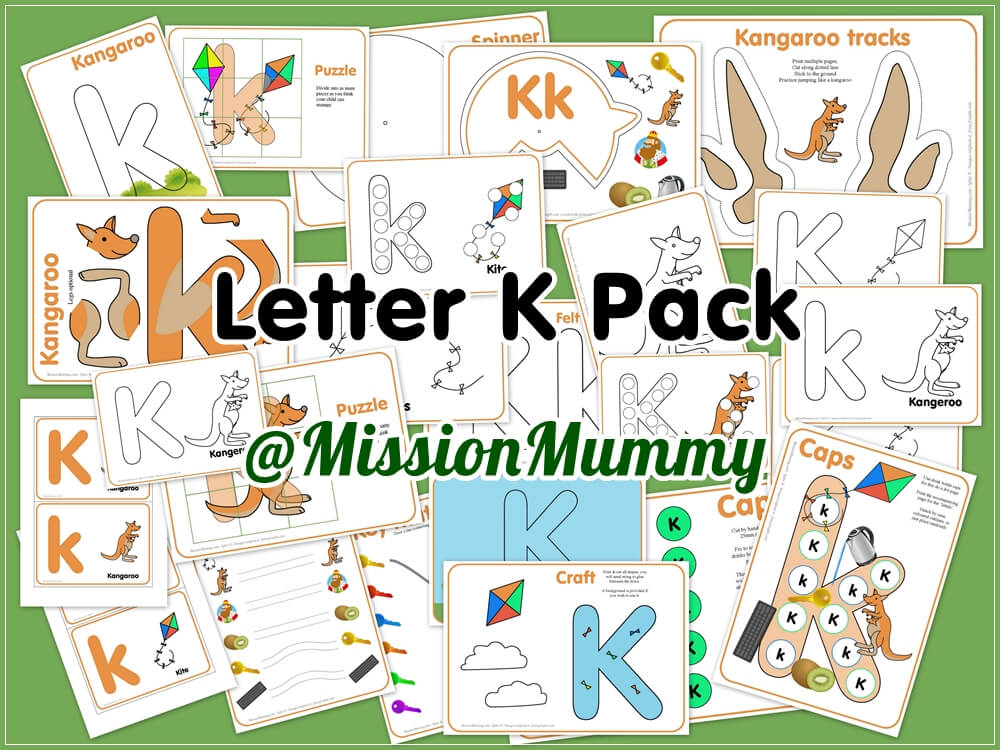 Linking up with 1+1+1=1 : A hopping week ~ Letter K {25 mos.}
Advertisment