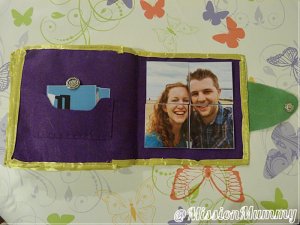 I have a pinterest board of quiet books. They always look so inviting as sewing projects.
This summer I tried to do my first quiet book specifically designed for my brothers wedding.
I wanted to make a book suitable for Adam's experience of the event.
I chose to start with a pattern for the airport. Next came the special clothes, the brides bouquet, things to spot during the day, and lastly the bride and groom together.
I deviated and modified the patterns from the get go, finding them beautiful but much too time consuming for my deadline. T-shirt transfer paper saved me a lot of time on the match game. I bound the book in a complete rush without finding any bias binding and making do with ribbon and a blanket stitch. I had hoped for a more professional finish but fell in love with it's hand-made-ness!
If I try again I'd do single not double pages and be a bit more determined to only use non-fray materials. Perhaps a bible one though patterns are surprisingly thin on the ground beyond Noah… I'd also continue to avoid the patterns that contain a whole wealth of mini loose pieces that will easily get lost.
Links to the inspirations / patterns below.
Patterns and inspirations:
Airport (didn't use helicopter but followed otherwise)
Wedding clothes (very modified, furniture not included)
Memory game (inspiration only)
Advertisment