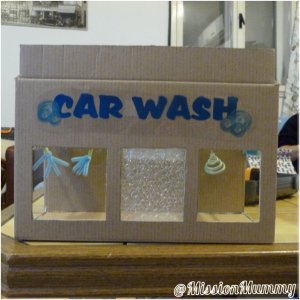 "Oh no, it's mucky, needs to go Carls car wash!"
The phrase is as familiar in our house as can be, and even though Carl's car wash is only one of many videos including car washes Adam has watched, somehow every car wash is Carl's in his head!
So we become resourceful, we drape fabric and grab train tunnels and everything else that can be a car wash until we get a spare nappy box for mummy to make into Adam's own car-wash.
We've been having lots of fun playing with it. I don't know how long it will last but there isn't anything precious about it. I like that the handles are still intact for carrying it about and the section at the back is perfect for storing vehicles in. It was also a quick project that I could work on while Adam was about.
Basic instructions are as follows :
1. Gather materials – nappy box, scissors, craft knife, double sided tape, suerglue, acetate, bubblewrap – for extra decorations see number 12.
2. Open up flaps on both sides and break the glue line to flatten
3. Use superglue to reseal so the box is now inside out
4. Refold base then cut off the flaps on the top side (I left half a long flap behind)
5. Use a ruler and pencil to mark 2 opening flaps on the ends of the box
6. Mark 3 windows on the front
7. Cut windows
8. Cut 3 sides of the openings on the ends – leave the side furthest away from windows intact
9. fold back flaps and attach to the long flap piece you removed from the top of the box
10. Outline the inside of the widows with double sided tape.
11. Cut and stick windows, 2 from acetate and one from bubble wrap.
12. Extra decorations were made from straws and pipe-cleaners (water-jets), a toothpick and spring (air drier) cardboard (floor) and printout of words (sign)
Advertisment
2 responses to "The Car Wash"