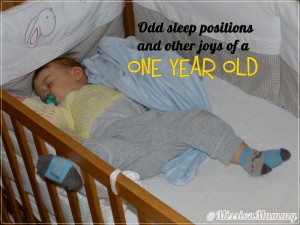 Adam is asleep, the whole cot available and his head is jammed right into the corner, his legs bent against the bars. Babies sleep in the oddest positions, trapped limbs seem to be his latest craze. When he wakes he'll roll if he can, move to a crawl position and sit himself up, an automatic movement that will help him wake up further, but sadly also curtails any remaining shut eye time. I'm yet to discover how to train him to lay down himself! Mostly we don't mind, he's happy when he wakes and will content himself crawling and walking round his cot. It's one of the beauties of him being this age, as as he turns 13 months tomorrow there are a few things I'm really glad to have left behind in the first year.
Sterilisation – oh the faff. We splurged on a steam steriliser and let the bottles pile until we could fill the thing. Our friends are in the last throws of pregnancy so we lent it to them and removing the big clumpy white thing from the kitchen was truly liberating. Whether we steamed, almost burning fingers on hot plastic, using a microwave or left out big sploshy cold water containers with the overriding smell of disinfectant, the goodbye is brilliant.
Accompanying that is formula bottles, expensive milk in all it's fake-ness and boiled water none the less. Moving to sippy cups with standard water at mealtimes and cows milk for other times is lovely. Not only is our wallet celebrating but we've found ourselves drinking a lot more milk too… milkshake anyone?
Dull toys. To be fair we've not really gotten rid of any toys so far, but it's lovely to see him play with toys rather than just munching on them. Now we bounce balls, open and close doors, connect, recognise, fill and empty. Toys for under 6 months are over-glorified teething rings basically, past 6 months aren't bad, but over a year and things get much more fun.
The food panic and the art of preparing reject-able food. While Adam's diet still features extra fruit and veg, having to prepare and purée unsalted simplified food is behind us. It's a disheartening process, having to make an amount of food big enough to use the whizzer but small enough to feed a tiny tummy. Oh batch cooking is supposed to be the answer but if fresh slop gets a turned up nose then reheated has little to no chance. And you just know your tummy growls will be your kitchen soundtrack.
What don't you miss?
Advertisment
3 responses to "The beauty of a one year old"