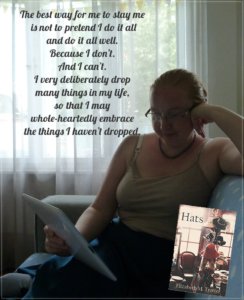 We are blessed to spend Sundays with Baba, at her house on the outskirts of the city. This year, as I've nurtured my love of reading I've taken to packing a tablet in the bag and this weekend as the electricity failed and the kids played I found myself swiftly ticking off another book for the summer reading challenge. In some ways this book was kind of a cheat addition to the challenge. I'd started the year delving into books about mission and motherhood, third culture kids and bilingual families. Amongst the books I'd read was "A-41: Essays on life and ministry abroad" by the Trotter duo. In there was the blog series that lead me to Timothy Sanford's "I Have To Be Perfect": (And Other Parsonage Heresies). I devoured them both and when this April I saw another book by Elizabeth trotter had been released I knew it must go into my reading list somehow.

Book number 4

Title : 'Hats: Reflections on Life as a Wife, Mother, Homeschool Teacher, Missionary, and More' by Elizabeth M. Trotter
Cost : £0.00 (kindle unlimited)
Category : 7 (A book you've been meaning to read)
Date finished : 08th July

Three word summery : blog, honest, reframing

Sentence summery : A compilation of posts and topics that frame the relate-able everyday in the grace of God.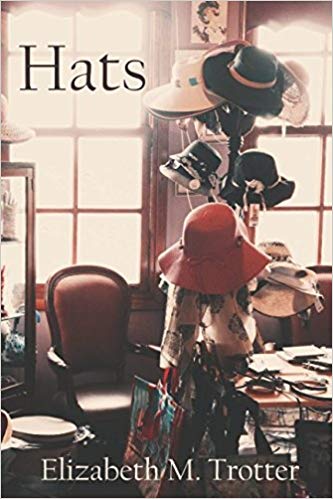 Reading an author you are familiar with is always rather relaxing, but it can come with the dreaded duplication and that is exactly what hit when i read this. While there was plenty of fresh material there was much that I read over swiftly as I knew all too soon that this was not my first exposure to these collected phrases. While i strongly resonated with the various 'hats' worn and could probably, to one extent or another, wear the same myself, I did find chunks of the book very life stage specific and as such didn't glean much from them. Where the gold was found it was beautiful and honest, relatable and not overly spiritualised as is sometimes the case. There is much in these pages about dealing with the mindset and heartache of the mundane side of overseas mission, re-framing age old struggles through the skewed lens that travel brings is certainly her strong point.
The best way for me to stay me is not to pretend I do it all and do it all well. Because I don't. And I can't. I very deliberately drop many things in my life, so that I may whole-heartedly embrace the things I haven't dropped.
Advertisment