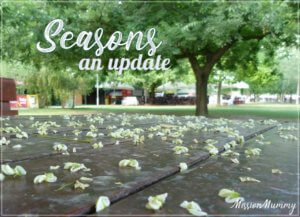 The long hot days of summer are dimming, the evening light lost now before bedtime curfew, the heat of the sun not nearly so bold. Seasons are very much part of how I've seen my life. Seasons named by locations where I've claimed a room, a bed, seats or title. We swim through most seasons, immersing ourselves in the surroundings and often neglecting to think of those on dry land as we concentrate of our strokes. We don't see them as fleeting until they draw to a close. When they get tough we look for signs of seasons change, when they go well we fool ourselves into believing they won't pass. Some seasons we get go of freely, others we try to cling to.
Today marks the official dawn of Autumn. It's my favourite season of the year and I already long for crisp days and warm jumpers. This autumn is also the start of another season for me, the season of childcare. Releasing time to create and give back has been something I've not recognised as such a deep need in me until I saw it eroded by the patter of small feet. In the dawn of this season, with all it's possibilities I'm obviously, joyfully, totally overloading myself.
So for those who read this blog to find out what I'm doing and how I'm 'being a missionary' then here is a quick breakdown of the big projects I'm counting as 'work' as the leaves change this year.

We are blessed to be a blessing to thousands around the globe with the JWL website. This summer I started oiling the squeaks and sorting the lists, restoring my excitement to be more consistent in the coming weeks. Young Jesus is the present set. I'm also adding in some translation which is always a joy.
Blogging is an important link back to those supporting me and I hope to blog more often, you may have noticed I've done quite a bit on this site of late. I'm particularly hoping to talk about the fragile but beautiful experiences I'm learning are common to being cross cultural family as well as other things.
I recognise that when I teach Adam with materials I've made myself we both get more excited in the process, so I'm making in earnest. I want my blog to be the hub for my printable packs, it's a great way to both serve through freebies and gain some pocket money. Right now that just means the odd theme pack as I build up my library.
Following on from the above, I'm working on preschool biblical packs. JWL was always aimed at school children so I'm keeping these separate. Aimed at preschool parents they could also be used by school and church groups. I made a Moses pack as an experiment and released it to a test group. The feedback was amazing. There will be 24 in total, 12 new testament and 12 old testament – they will be on their way in 2019. One of the things I love about this project is that it's a need I see me filling and that it has a set end point!
I'm blessed to be facilitating a'Velvet Ashes' connection group for women serving around the world, who are married to nationals. Households standing in the half way house between being local and being a foreign missionary. It's my second time with this specific demographic, the first being in the spring, and it's unlocked a passion in me. When the spring group ended everybody wanted to continue so I'm now in the unique position of having 2 groups, thankfully one rather subdued and without the set schedule.
So those are my bigger bits right now. Obviously I'm still teaching Adam a little in the afternoons and he's just started decoding words, he went from the sight word 'go' to recognising 'lego' yesterday. It's an exciting phase to be in and lovely that we can work at such a sedate pace. Alongside that we are playing with neighbouring friends, cooking (especially baking of late), cleaning, shopping and laughing over the wonderful everyday. Hopefully, we'll see the English grandparents for Adam's birthday next month and we've 3 weeks booked for England in December to meet the new additions to the family. But mostly, for now, I'm gonna appreciate the tree opposite our window going from green to a beautiful primary yellow and lean into this season of Autumn, Harvest and God's great provision.
Advertisment