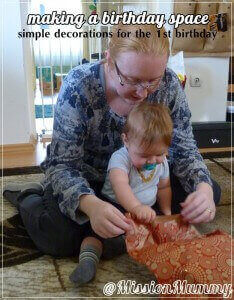 My challenge is to do a project every month and share it here. I've got a whole host of ideas and very little in the way of budget, so frugal is the name of the game. (Click on any image to see it bigger & scroll all images!)
October's key event was Adam's first birthday, it turned into a big event when the guest list topped the 40 mark and our little house was quite literally packed to the rafters. While we splurged on some helium balloons there was lots of home-made bits as well.
This month's project was Adam's birthday decorations
The theme was safari animals and it gave a lot of scope. I ended up buying a pack of safari animals graphics, simply because I liked the characters more than the freebies I found. I used my printer properties to print everything as posters on multiple pages. After they were roughly cut and assembled, I mounted them onto cardboard and cut them out leaving a generous border. I added a happy birthday banner and a couple of signs too. They took some time but the end result was worth it.
Inspired by ideas on-line we printing a load of photo's from the last few months and grabbing the sticky tack I made a huge number one for the wall besides the food table. I even tried making a cake that thankfully, tasted ok this time. Everything was set for his birthday proper and then the party at the weekend saw us add decorations to the hallway and balloons. I used a roll of crepe paper to cut some big leaves and a weak glue stick to attach them to a curtain on an existing tension rod we positioned opposite the front door. Signs were punched then hung using 2 colours of green wrapping ribbon, and the 2 animals sticky tacked to the wall. The other 3 animals remained in the sitting room alongside swirling foils while the bedroom come playroom had helium balloons with strings hanging just low enough to play with. The swirls were a pre-made packet though I wish I'd thought of making them, the photo's and the balloons, especially the free-standing monkey, pushed the cost up a little.
Now the party has passed we've kept the big animals and plan on decorating the bedroom walls with them. I'm hoping to look out the spray varnish to make them a bit more durable first.
Advertisment
One response to "October's Project"