Enough
March 5, 2016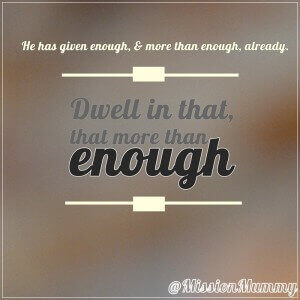 It's been one of 'those' seasons of late. Life has blown up a storm, wind whipped and cowering under the latest wave I couldn't bear to see if it was tidal or just a ripple, it would knock me down either way. I kept telling myself it was a season, nursing my aching soul with tasks that should sooth it's woes, building environments that would be fertile for my sapling to bloom in, leaning into routines that kept me ploughing forward through the waves rather than allowing myself to drown under them. I've been here before, days when emotions seem disconnected to actions, productive days, lonely days.
It was an evening when I felt more than exhausted by life that I left for a short wander in the drizzle. Occupied my weary body with nothing more demanding than placing one foot before the other. Opened my mouth to whisper into the gloom the words that would not stop their conversation in my head. Heard them speak and let them go.
I told my maker about my joys and fears, I described in intimate detail the heavy yoke that was holding me down, the uncertainty, the sacrifice, the failed expectation.
I left nothing out, furiously moving my lips to detail every scratch and blemish and hue. In the gap that expelling all these weights sat the word I'd chosen for the year, to 'appreciate'. Like a hidden sin exposed, it hurt to examine from this angle, offended me as if mocking my woes.
Was it not enough that I had shouldered the burden, was it not enough I'd given, enough I'd taken, enough I'd paid already. That I should appreciate this weight seemed cruel. How much more could he possibly be demanding, how much more would be piled upon me. Then the voice changed: I have offered to carry the load with you. The road may be rough but I am here, I am your staff and your travelling companion. I have already paid The price, I have. I have given enough, and more than enough already. Dwell in that, that more than enough. And the voice stopped. The silence wrapped me like a comforter, rooting me to the spot and retuning me the creeping cold, half light and quiet road.
With straightened shoulders I picked up the yoke inscribed with my name, felt the shift as he shared the load and started to move. It was a short walk back to the warmth of home. A short walk repeating the line, "He has given enough, more than enough, already". The problems were still there, the uncertainty still raw, the loss still chaffed and the numbness still present… but the wave was now harmless, the storm fizzled, the deep valley no longer as shrouded. As the weight settled I recognised that 'enough' was what I had, 'enough' was my blessing, 'enough' was part and parcel of this heavy weight, 'enough' was the skills to carry and to flourish, 'enough' was what I could give or take, because 'more than enough' was walking besides me. Appreciating the hard times is a bitter lesson, cruel indeed but laced with mercy and grace.
Linking up with Velvet Ashes where the theme this week is "Yoke"
Advertisment
4 responses to "Enough"