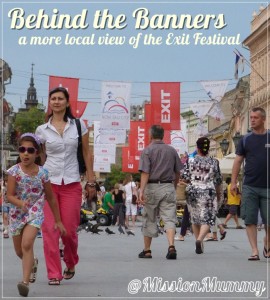 This weekend is Exit festival in Novi Sad. It's going to be great, it'going to be hot, and it's going to be an invasion of people into a town that's all keyed up for their arrival. Last year the attendance numbers were logged at 185,000, that's about 10 thousand more than Glastonbury. I have a lot to owe to the festival, I met my husband there, but six years on I wish I could tell every foreign exit goer these few truths.
1. There is more than one festival.
Exit festival is reasonably priced, but it's still beyond the reach of many in the city. Not to fear though, they will still be out in force, enjoying the atmosphere. Venture beyond the camp / hotel and the fortress and come wander in the centre.
2. Prepare for heat.
It's hot here, during the heat of the day it's boiling. Pack talc for dry baths, loose over the shoulder clothes, wet wipes for your forehead and neck, decent sunscreen, sunglasses and if you wear hats then bring it. If you are a girl I'd also recommend panty-liners to help feel fresh. Plus, bring a bag big enough for a bottle of water, to carry around.
4. Be polite.
Learn just one word of Serbian – sorry. You will be pushing through crowds and it doesn't take a lot to say 'izvini' occasionally (pronounce i as ee). Most Serbians understand some English, though they may not have the courage to speak – remember this when you comment on their city, they are proud of it!
5. Use the buses.
The buses are cheap, just 55 dinar, it's a flat fee per bus irrespective of how long you stay on. That's 3 bus tickets for a pound. If you don't want to faff with change it's 715 dinar (just over £4) for a weekly ticket you can buy at the bus kiosks. Buses are regular and some even have air conditioning.
6. Don't run for McDonalds.
I'm always saddened by the number of tourists who head for McD's. If you want to use the loo then there are public ones which have a tiny fee but are lovely and clean opposite the Vojvodina hotel. If you want food then there is a great selection of places. If you want a burger why not try pljeskavica – the local burger that's double the size and half the price.
7. Don't forget your privilege.
Many locals won't be able to afford the festival this year. Those waiters serving you, the street sellers, the person at the kiosk, they will earn in a day what you would earn in a couple of hours on minimum wage. Receipts are often rounded off, and it's normal to leave the smallest coins behind – in restaurants be kind and tip.
8. Chill out.
Novi Sad is a really relaxed place, sit outside for a drink and soak in the atmosphere. Don't worry about being late, timekeeping isn't Serbia's strong point. Yes you could arrive early and camp at main stage all night, but the atmosphere is dead if you go early and you'll miss so much you could have stumbled across.
If you walk away from the stages you'll still hear the music after an hour of plodding.
This is our home. That music you'll enjoy will seep through the city, it will wake sleeping infants, it will lift the atmosphere and crush it when it disappears. Our calendar may focus on this one long weekend but our year still has 364 days.
Advertisment
3 responses to "Behind the banners : tips for Exit festival"