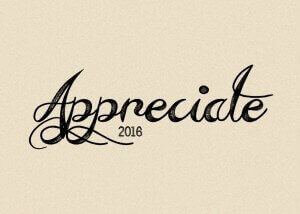 Back in January, prompted by the Velvet Ashes group I chose a word for the year. One word, to continually come back to, to muse over, to mediate on. One word that I would go on to make my backdrop on almost every digital device, would force myself to acknowledge daily before the wind-down of sleep, one word that I hoped would shape me. And the word I chose was appreciate.
Early on it was lovely. Back then I was in the practice of having a weekly desk sheet. This encouraged me to track and thus vary our food intake, to make note of when I'd accomplished what and when appointments would divert our routine. Most of all it forced me to write daily what I'd appreciated. As weeks passed I found this sheet almost entirely devoted to writing out daily positives. After Easter I started skipping written weeks, but still the appreciations flowed. Mostly into prayers of gratitude, sometimes deep prayers that rise up unbidden, others rushed moments of thanks. Rather than scribble out lines I started to read the psalms, resonating with their words of praise, and recognising in their words of anguish a personal faith that had allowed pools of stagnation to form. My faith found itself on a journey, a journey from the crowd to the tent, from the spectator to the friend, from the textbook to the embrace. It was such a short step, but one I had failed to make it for so long.
Now I'm more than half way through my year of appreciate, I recognise I've learnt a lot. I've not just embraced gratitude over pessimism, which was what I set out to do, but I've rediscovered gratitude itself. I've discovered how many circumstances have brought me to the place we are, decisions that spans back centuries, years and mere months. I've discovered a propensity to leave un-built the true acknowledgement in relationships, and found a earning for a chance to show appreciation. I've reconsidered the old promise that 'God will provide' or that 'God can use me to provide' and seen that far too often we pass the thanks only upwards and not also around. I've found appreciation boundless, limitless, curling back through memories and showing already open doors for the future. It's the art of treasuring, the point of recognition, the mild mannered admiration… in it's truest form it's a gentle prompt to show love.
Today, know you are appreciated. You are appreciated for reading my words, put out into the ether, appreciated because you have contributed to this world, you have spun the plates and dared to keep them balanced, appreciated because you are a child of the divine (even if you don't acknowledge there is one) and your place in this grand tapestry of life can only be played out by you.
If I never get to say it in person, Thank you.
Advertisment