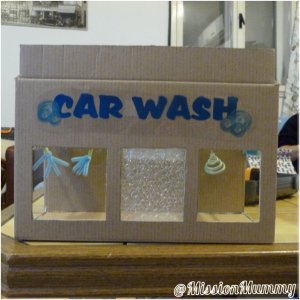 "Oh no, it's mucky, needs to go Carls car wash!"
The phrase is as familiar in our house as can be, and even though Carl's car wash is only one of many videos including car washes Adam has watched, somehow every car wash is Carl's in his head!
So we become resourceful, we drape fabric and grab train tunnels and everything else that can be a car wash until we get a spare nappy box for mummy to make into Adam's own car-wash.
We've been having lots of fun playing with it. I don't know how long it will last but there isn't anything precious about it. I like that the handles are still intact for carrying it about and the section at the back is perfect for storing vehicles in. It was also a quick project that I could work on while Adam was about.
Basic instructions are as follows :
1. Gather materials – nappy box, scissors, craft knife, double sided tape, suerglue, acetate, bubblewrap – for extra decorations see number 12.
2. Open up flaps on both sides and break the glue line to flatten
3. Use superglue to reseal so the box is now inside out
4. Refold base then cut off the flaps on the top side (I left half a long flap behind)
5. Use a ruler and pencil to mark 2 opening flaps on the ends of the box
6. Mark 3 windows on the front
7. Cut windows
8. Cut 3 sides of the openings on the ends – leave the side furthest away from windows intact
9. fold back flaps and attach to the long flap piece you removed from the top of the box
10. Outline the inside of the widows with double sided tape.
11. Cut and stick windows, 2 from acetate and one from bubble wrap.
12. Extra decorations were made from straws and pipe-cleaners (water-jets), a toothpick and spring (air drier) cardboard (floor) and printout of words (sign)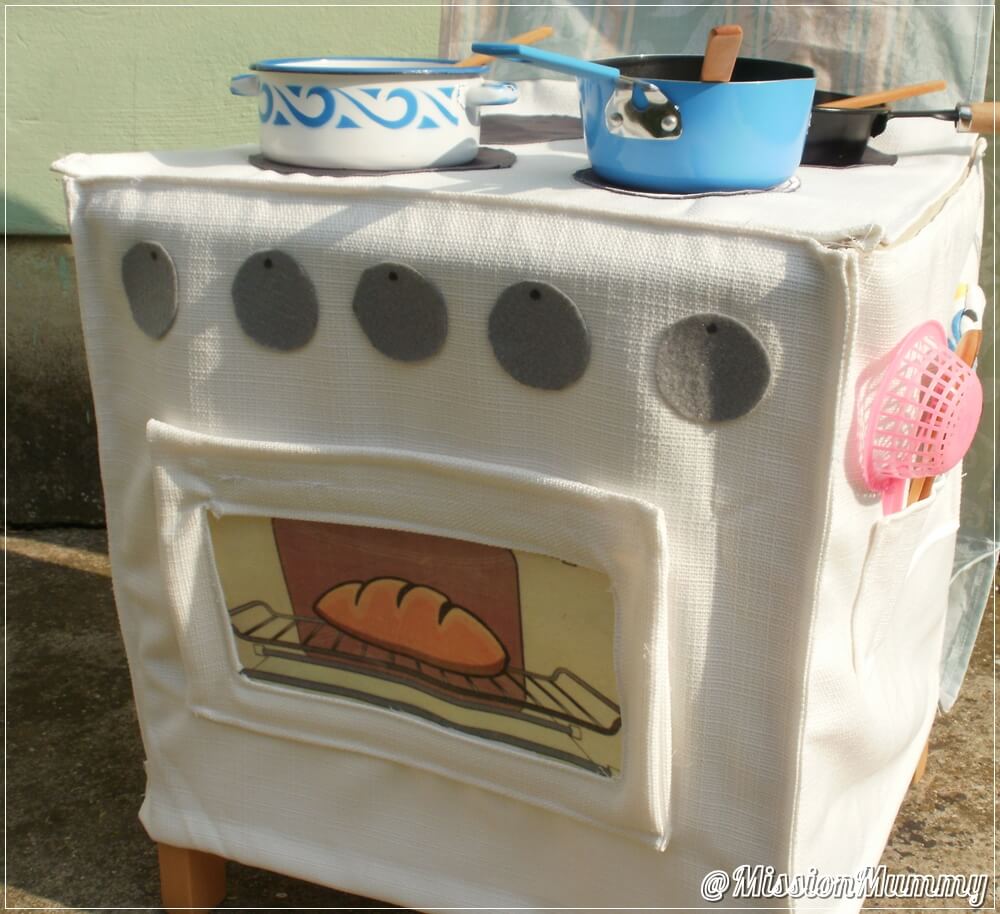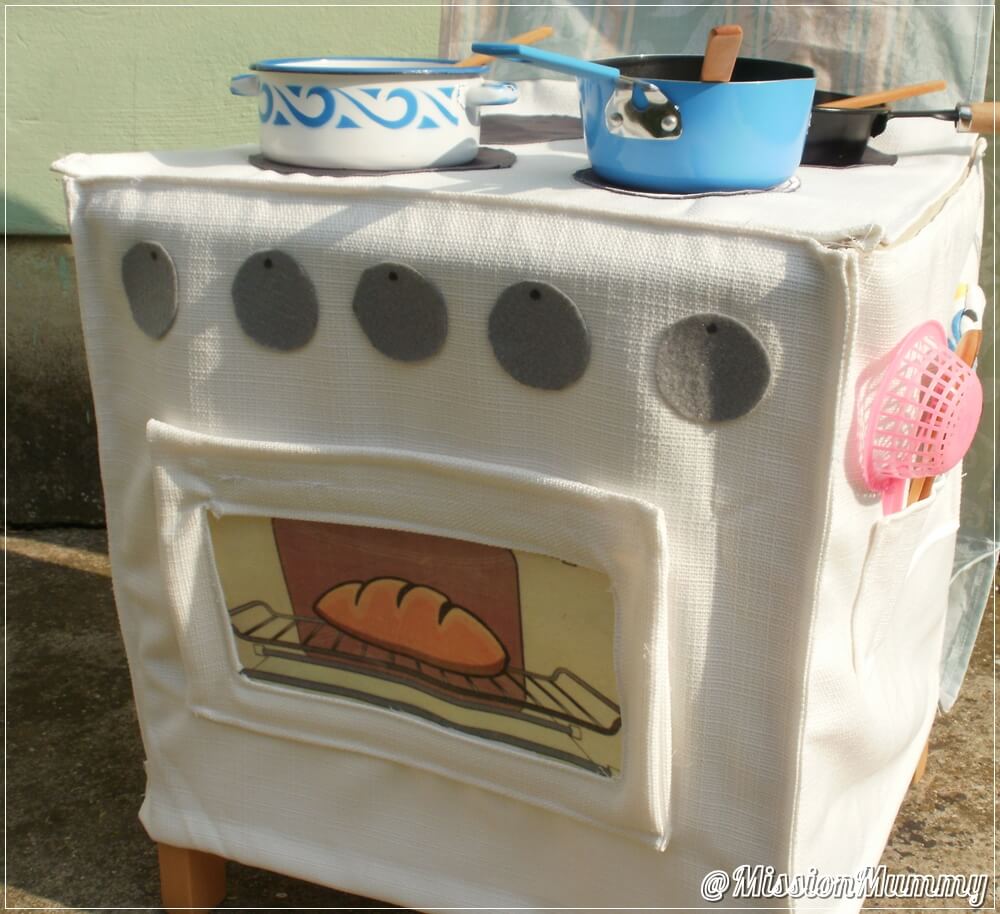 We've discovered imaginative play and it's changing the way we work with toys. It's a stage of play that really distinguishes the toddler, representational and symbolic thinking begins to develop and there is a great need to imitate. With the days already getting hotter and my first sunburn of the year out of the way I've got back the home-maker bug and cracked out the dusty sewing machine to help this stage really flourish.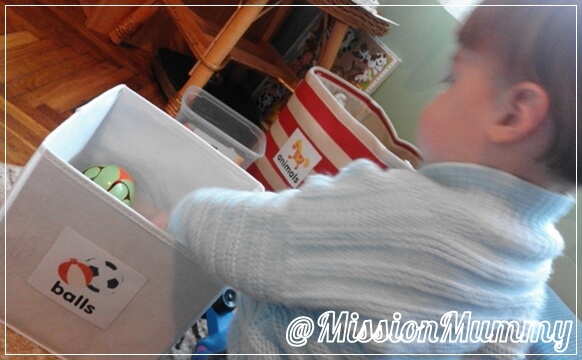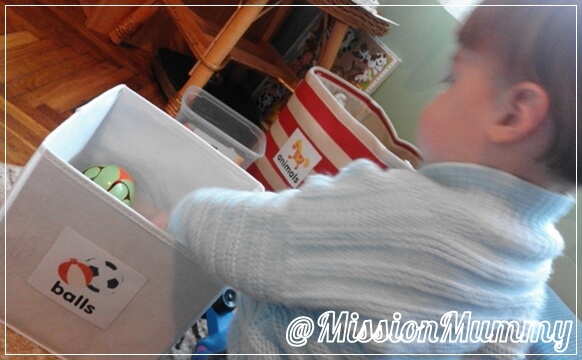 Firstly we've begun adding labels. Thanks to double sided tape and a colour printer big bold labels show Adam what's inside a box before he dives in. Initially this was done in the hope of starting toy rotation… then I realised we don't have enough storage, play-space, or toys to do this effectively – And I'm the first to admit Adam is not short on toys!
Toy Rotation: a method of rotating toys so the child becomes less bored, mostly advocated by parents who have huge basements for storage, dedicated playrooms or more toys than I ever owned in a lifetime?
However, boxes vaguely contain the mess, as well as making tidying up and selectively hiding much easier. While some are merely containers, others act as activity prompts – by clearing the floor of all but the box it invites Adam to delve inside.
The big project was to give Adam some role play space. While looking for play-space ideas I encountered the chair slip-covers that had been sewn into kitchens. These really suit our 2 room house set-up and replacing a couple of seams with zips allows me to fold every side flat.
Materials: white fabric, silver fabric (hobs), patterned fabric (back), t-shirt transfer paper (oven + shelves), thin card (hobs), acetate sheet (oven door), velcro (oven door), sticky back felt (dials), 2 zips, ribbon for back ties and an old oven glove.
Unable to find the bigger sized play pots and pans we bought or borrowed small versions that can get added to the kitchen cupboard (if they aren't wrecked). There are quite a few measurements I got wrong, and bit's I'd have done differently, but for a first try I'm rather happy. Adam has been having fun playing with it and loves eating his snack out of his saucepans.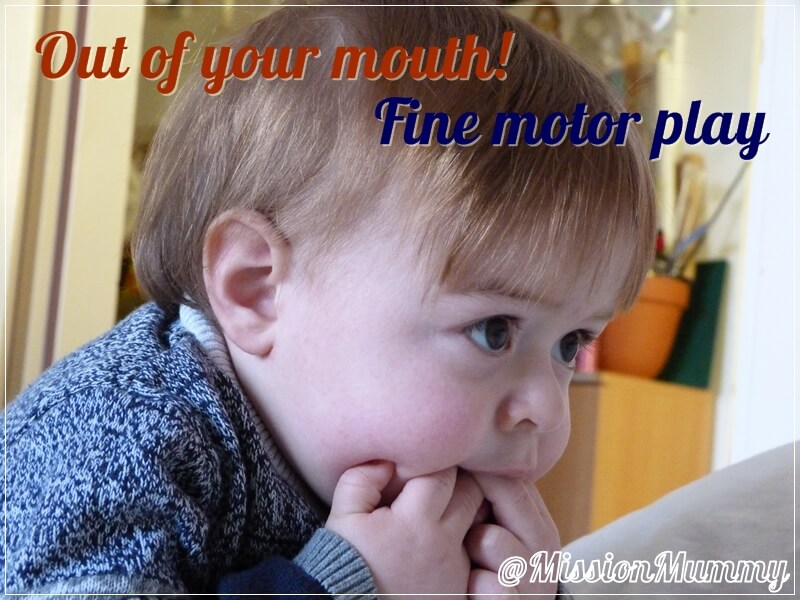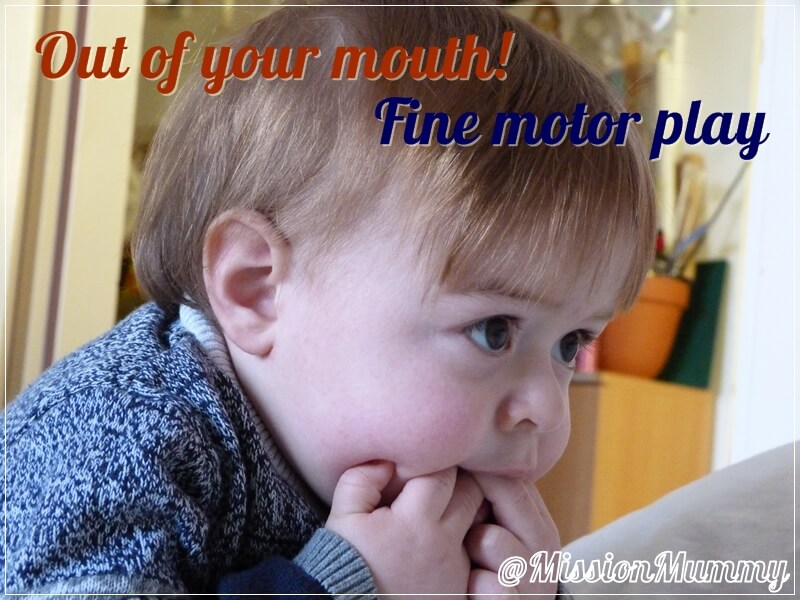 Our little ball of exploration just wants to feed that inquisitive nature but is stuck in the oral stage. It's frustrating because some parents seem to breeze through this rather quickly, while others are stuck there for a year or more.
Beyond the limitations, all those little pieces really help develop fine motor skills and he loves playing with anything that has lots of 'bits'. Hence, it's not stopped us finding favourite 'fine motor control' structured activities, so I thought I'd share.
1. Matchsticks. Sensory tubs are great, but in reality eating big handfuls of hard rice or dried cereal just doesn't fit our needs. Our house isn't all that suitable for wet play either. Brightly coloured matchsticks are big enough to easily retrieve from the ground / lips, but still fall in a beautiful way and can be threaded through card tubes or searched through.
2. The Crayon Box. More than just a chance to scribble with chunky crayons. By using a small pacifier box to store our crayons we spend as long, if not longer, manipulating the clasp, filling and emptying out. The paper must be fully taped to the table.
3. Sticky Foam Floor Piece Shapes. (catchy title I know!) This is an activity we don't do too often but totally adore. The floor pieces give us a contained area and strong frame for the sticky back plastic. Small bits of paper, funky foam, tissue paper, string, and fabric scraps endure regular 'turn and shake' until everything is stuck so nothing can be eaten later!
4. Playdough. I make my own using this recipe but then we'll only play with up to 1/4 of the dough at once. Limiting the amount not only makes it easier to manipulate but also to keep track of.
5. lolly Stick Can. Big chunky threading as well as the obligatory fill and dump are served quite well by this. The can lid has two slits and one circle hole that's a bit easier to use.
Those are our top 5.
Did you get stuck at the oral stage? What activities did your youngsters enjoy?