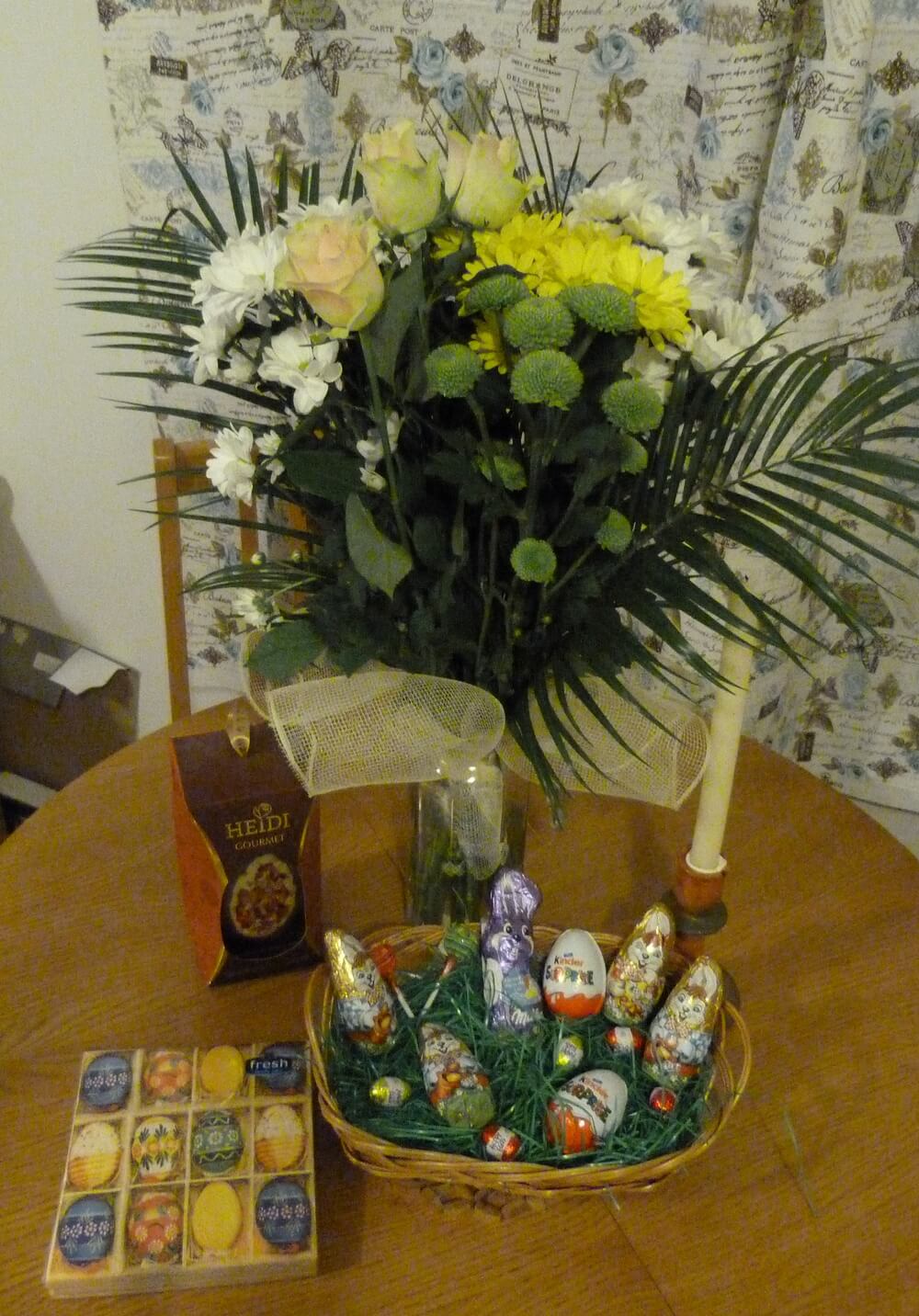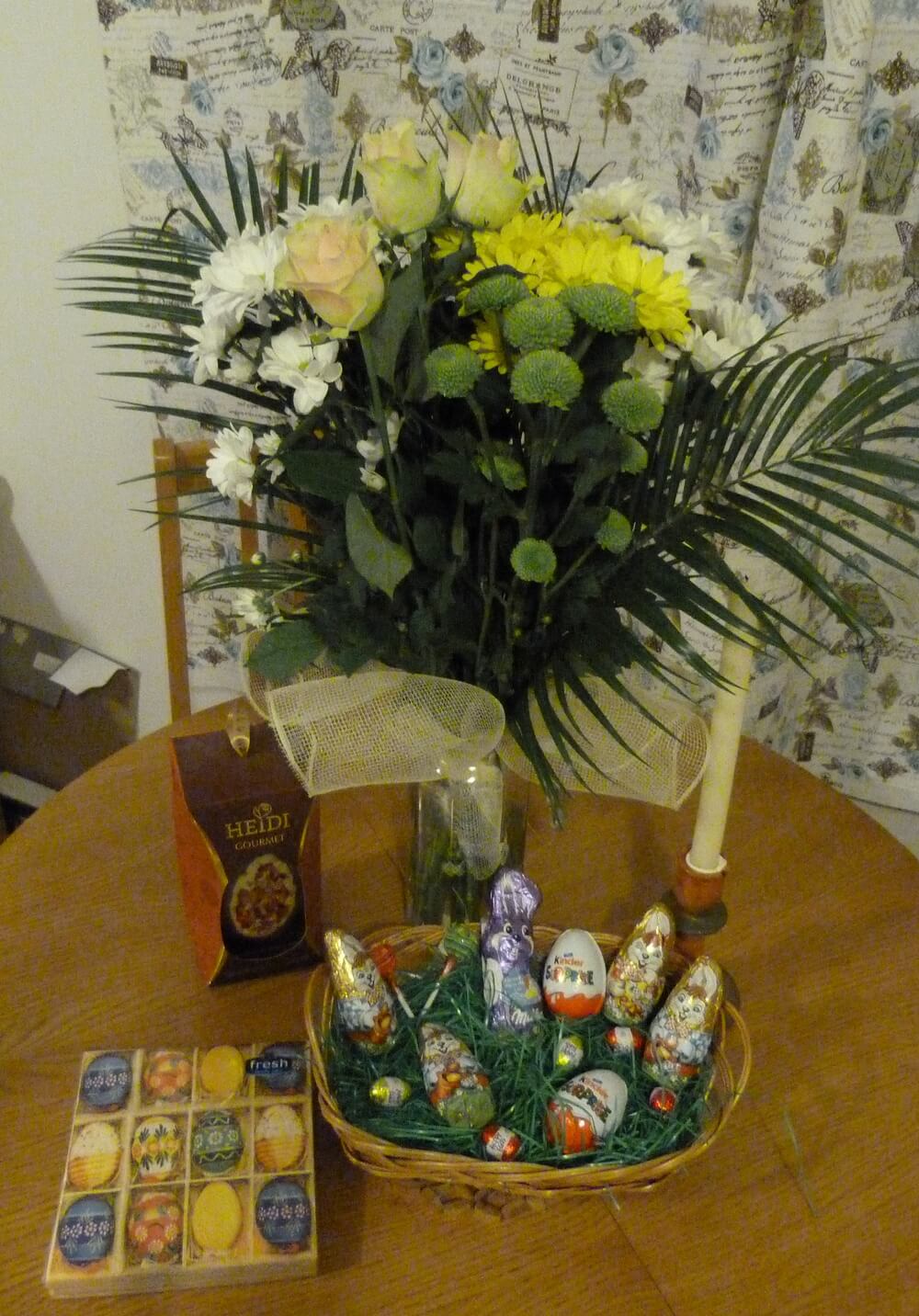 Every Easter, bar one, for the last 17 years of my life I've been able to walk into Sunnyside church and proclaim Christs resurrection surrounded by faces who have journeyed alongside me. It changed this year. It was the first Easter we didn't travel and I'd be lying if I said the prospect didn't feel like heartbreak back in December when we bid England goodbye. Even back then my heart already longed for the red chairs of Sunnyside and the mice in blankets breakfast.
This year more than ever I knew that I'd need to create a sense of Easter. I needed to find a way of building the season, intentionally, purposefully and concretely both for my head and my heart. Traditions, however weak, ground us, anchor our seasons and when they evaporate into plane trails we get a chance to evaluate them, reject, assume or develop them.
To make life a touch easier orthodox Easter was on the same day so at least it wouldn't be a random Sunday when everything went on as usual. It promised a day of family and cracking hard boiled eggs while presents were uncovered the Easter bunny had left behind. Beyond that my canvass was scratched with biblical trails and liturgical clues. I love the spin of the church year so I decided that my Easter preparations must start with lent.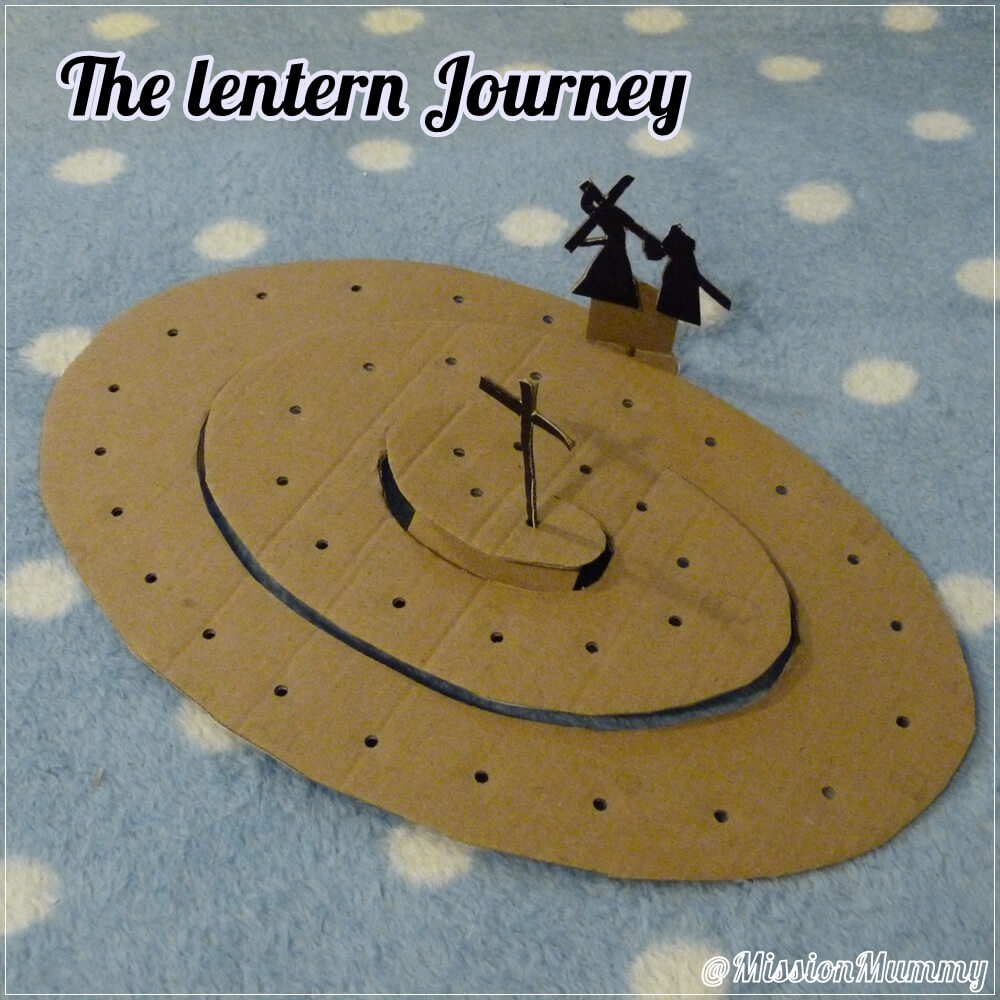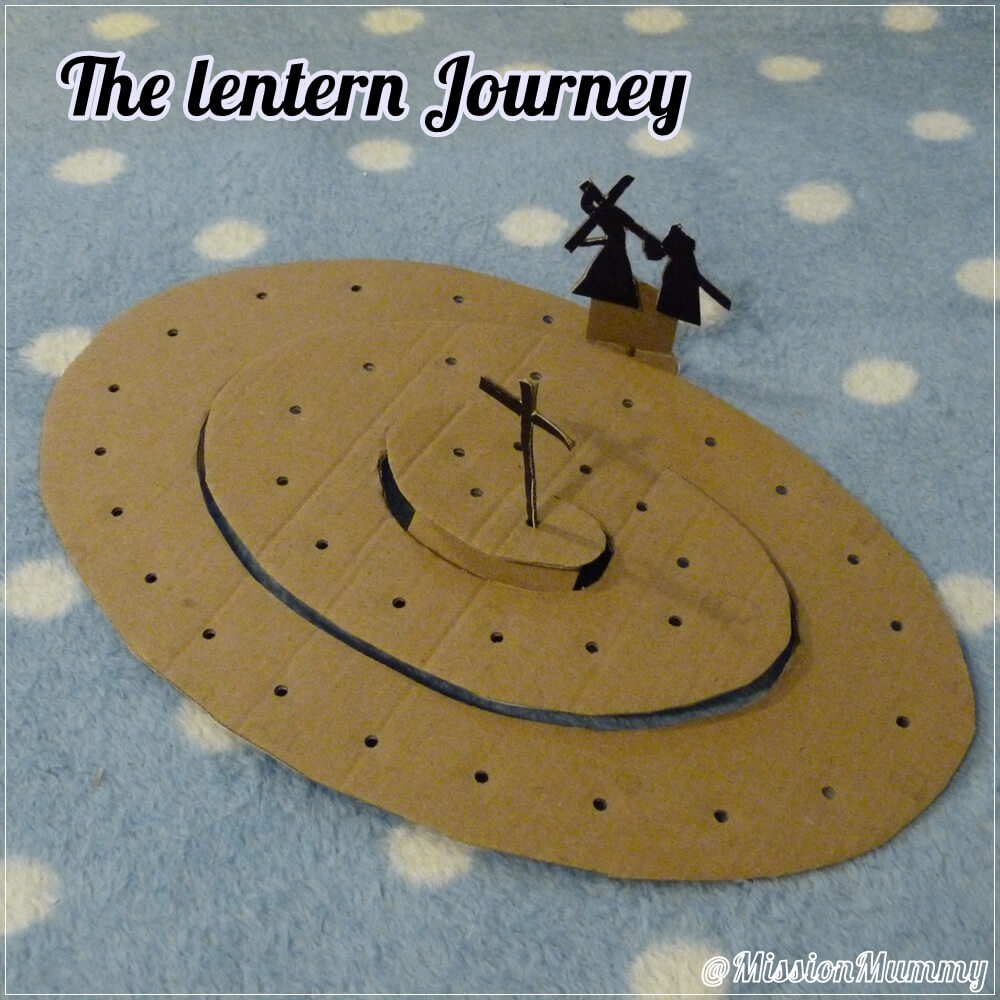 It's really easy to skip lent. To arrive on Palm Sunday with all the joy and try and cram all the deep and often dark stuff into that tiny week which ends in the greatest darkness being broken by the purest light… but those wiser than me thought perhaps it needed a bit more time to approach the cross and tomb, I'm inclined to agree. I scratched together a lent walk from half a pizza box and hole punch. I like tangible things, they focus me and help me see a journey to the end. It's heavily based on the wooden cradle to cross spiral wreaths. Every day I moved that little figure and imagined that cross, those dusty streets, that long walk. By the time Easter Saturday came it felt like I'd almost always carried it, always been so close to the one who shared my load.
As holy week approached my mind started to travel back then though Easter traditions I'd known – Simnel cake, Easter bonnets, Egg hunts, yellow and white decorations, little lambs, chicks and bunnies, eggs and more eggs, blown eggs, painted eggs, hard boiled eggs rolled down hills, chocolate, oh the chocolate, Passover meals and hot cross buns, dawn services and Easter gardens, fresh cut flowers in baskets and bouquet, holy week services and the long pause of Easter Saturday. I picked them up and examined them in my mind. What would prepare me spiritually and physically for this season?


A Holy week journey is something I've done a few years now. I use the JWL resource and always seem to receive a lot from following and adapting it's childlike biblical simplicity. I was eager to keep the spiritual side rather than overindulge in chocolate eggs or toilet roll bunnies, both of which we managed to do anyway. Monday starts with a simple felt coin purse into which we count coins then fling them on the ground. It is such a low key and simple way to start and yet somehow my heart jumped at items I could grip in my hands. I looked on the weeks familiar symbols and started to see how they could become my stepping stones to lead me on. Tuesday we made oil lamps out of play dough, pushing the candles deep and watching them flicker before blowing out foolish maids candles, they were not prepared, but suddenly I felt I was beginning to be. Even when Wednesday fell by the wayside my footing did not falter.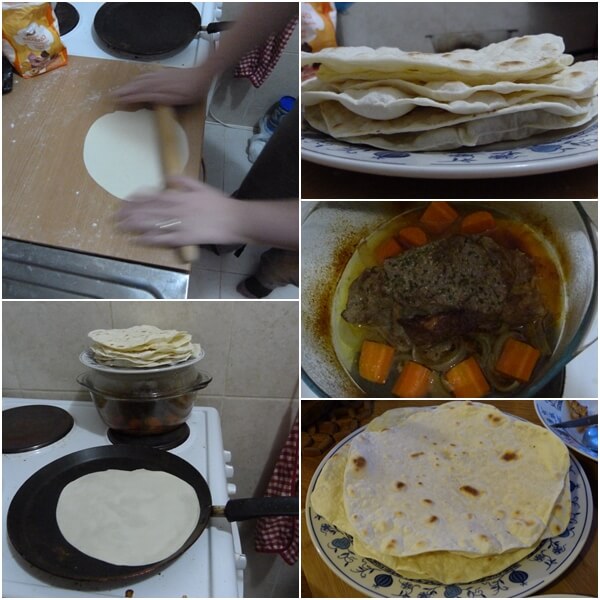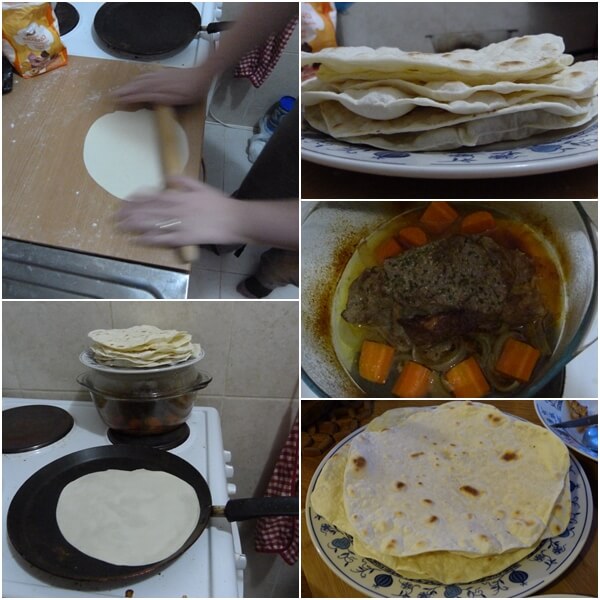 I'd struggled with Thursday, the original focus was Eucharistic but how could I do something like that with a toddler? Then Passover dawned in my head, the original meal. For the first time, in a long time, I roasted meat and tried to make unleavened bread. It was lovely and so poignant to tear that flat bread and wrap it round the meat, and quite too tasty for my expanding waistline! Friday I upper my game and went big with homemade sweet hot cross buns. I'm storing the recipes, treasuring the photos. We added in cardboard eggs dabbed in paint, Easter nests and coloured parchment paper cut into delicate chicks and bunnies and lambs.
Saturday my Lent journey sat complete, nothing more than an empty cross in the centre. A huge bunch of beautiful fresh flowers sat centre on the table and as Adam fell asleep I strung up the words 'He is risen' and laid the table with a candle and basket of Easter treats – a few chocolate eggs and bunnies. I'd found myself a chocolate egg too, well something don't need to change.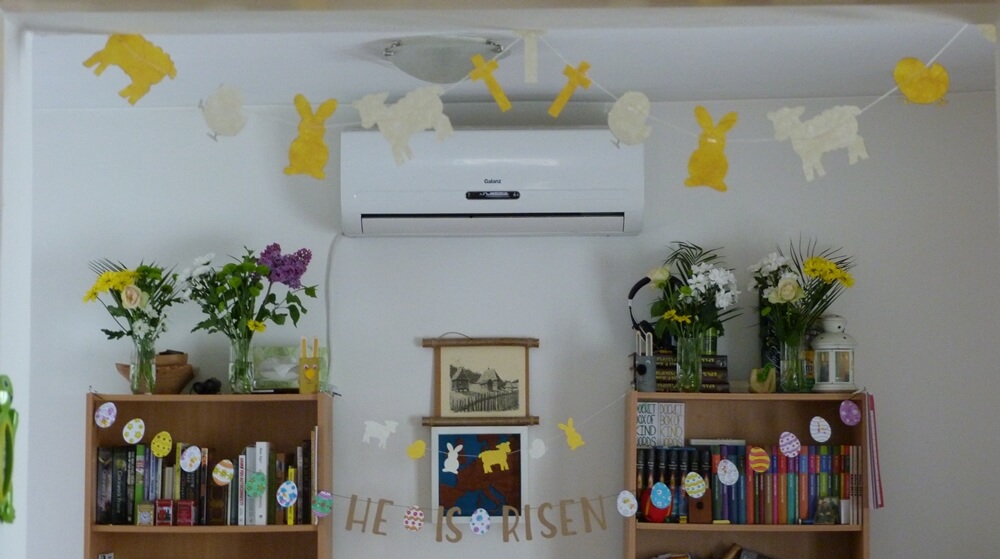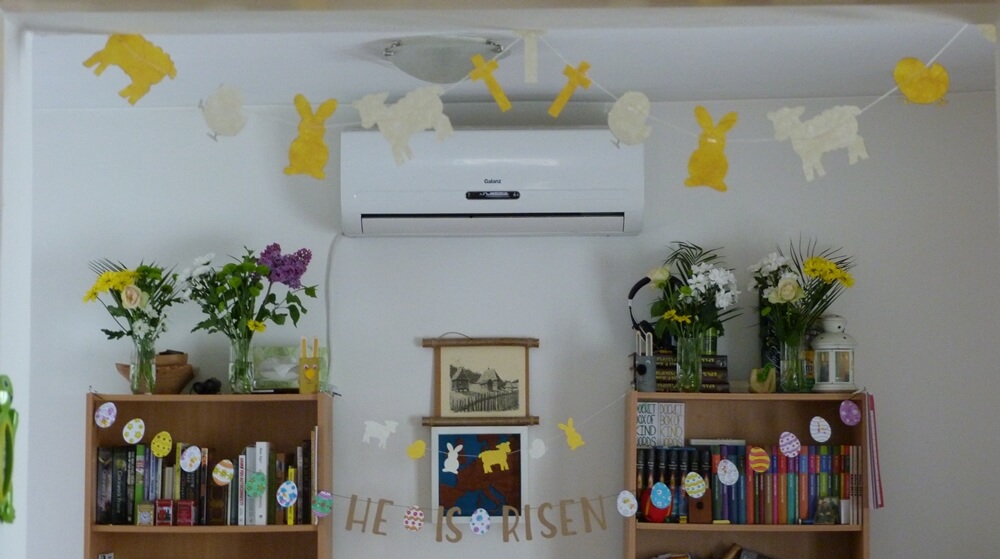 I stood in Vera's kitchen on Easter afternoon after we'd played the game of cracking eggs and eaten our feast. She told me how it was the first day of Easter for her and I realised that for me Easter day is the grand finale, it's the fireworks at the end of the long and often gruelling show, a finale this year I'd dreaded but believe I may come to treasure.
Mary treasured up all these things and pondered them in her heart.
Luke 2:19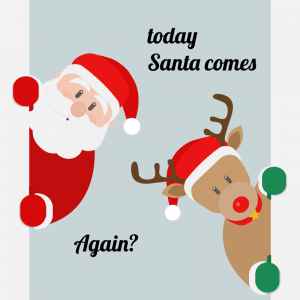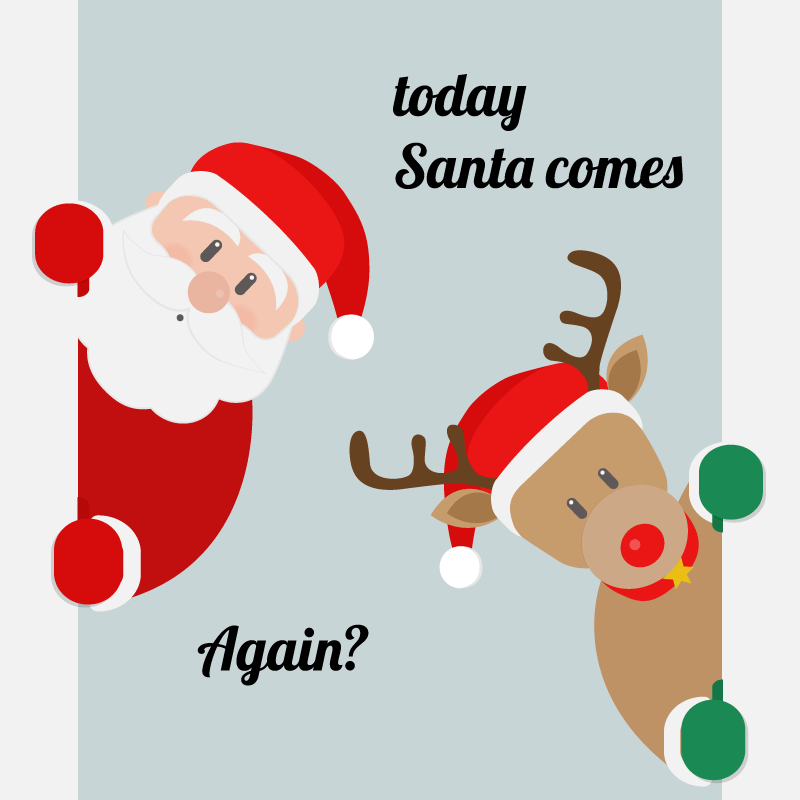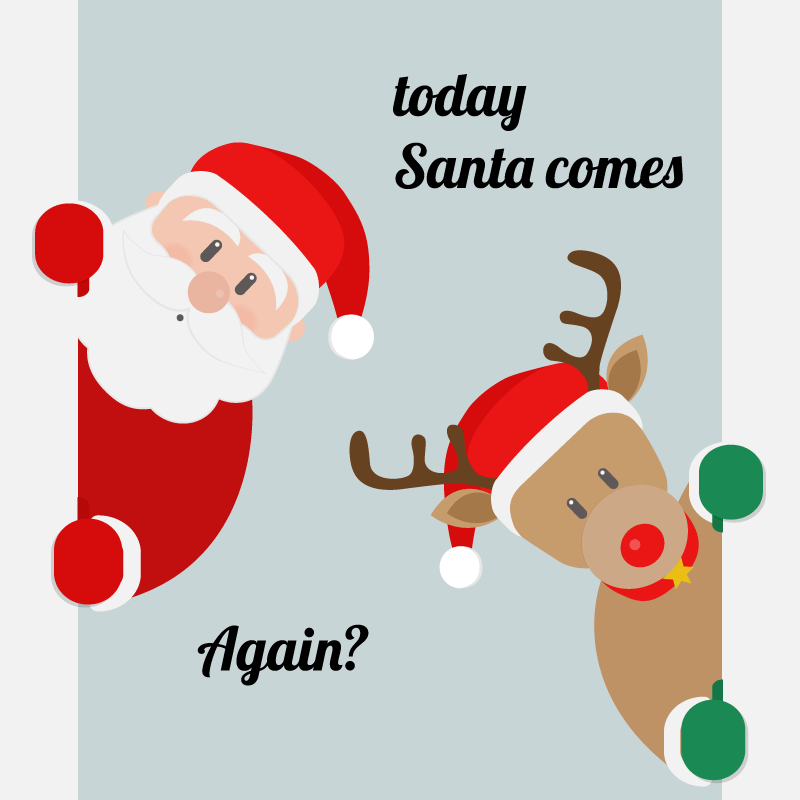 He'll arrive in a similar style and with an much magic as he did on December the 25th, but here Santa comes on new years eve. Adam is still blissfully unaware, he's unconstrained by dates, he had many an unopened present left on Christmas day, the whole shebang means little to his world. As aspects creep in we are deliberating what Christmas will mean to our family. I like the idea that Santa comes on a different day, that the birth of the saviour and the flying reindeer are separated somewhat.
This years Christmas for me was a stripped back affair. Slowly as the years have passed I've had to choose what events I'll keep up with and which will knock my 'feeling Christmassy' by their absence. This year for the first in many I had no church family to return to, something that left my pillow damp many a night. There was no nativity, I neglected to even make a crib scene, I sang no carols prior to Christmas day, and entered no church building during advent. On Christmas morning our family entered a strange church with a warm welcome that wiped much fear and lifted more than a few prayers of thanks from my lips.
I did celebrate advent, delving deep into the big story that weaves it's way through Abraham, Isaiah, John and Mary to the child that flails in it's straw lined manger. As years pass I find myself clinging more and more to the church year, a calendar of faith that spins with as much certainty as the Gregorian system we use. In a land of multiple calendars, to choose to follow yet another must seem very odd. Somehow it roots me, even if it makes major church celebrations harder to engage with locally.
In just a week we'll be once again celebrating the saviours birth as the world I grew up in will be reaching day 13 and wiping clean all traces of Christmas. Somehow this elongated season is much closer to the church year than the 'big day' concentrated one I was so familiar with. It's something I'd come to appreciate long before this years word focus, it's a season where the baby is born and the celebration continues, we are not so eager for him to grow old and walk to Calvary, rather we sit in the moment and like a new mother stare at the gift we have been given.
So 2016 ends. A year I've tried to 'appreciate', though moments of joy and times of struggle, though things I could control and aspects beyond me. It's been a great word for the year and one I've found much growth in. 2017 dawns and I've already chosen the word that will adorn the year – Invest. I want to invest in building our own traditions, invest in the lives of those around me, invest in the objects we keep and the space we keep them in, invest in long term plans and fleeting seconds. But today I'll sit and appreciate my little world as the new year rings in around me. Happy New year friends.
Image : Designed by Freepik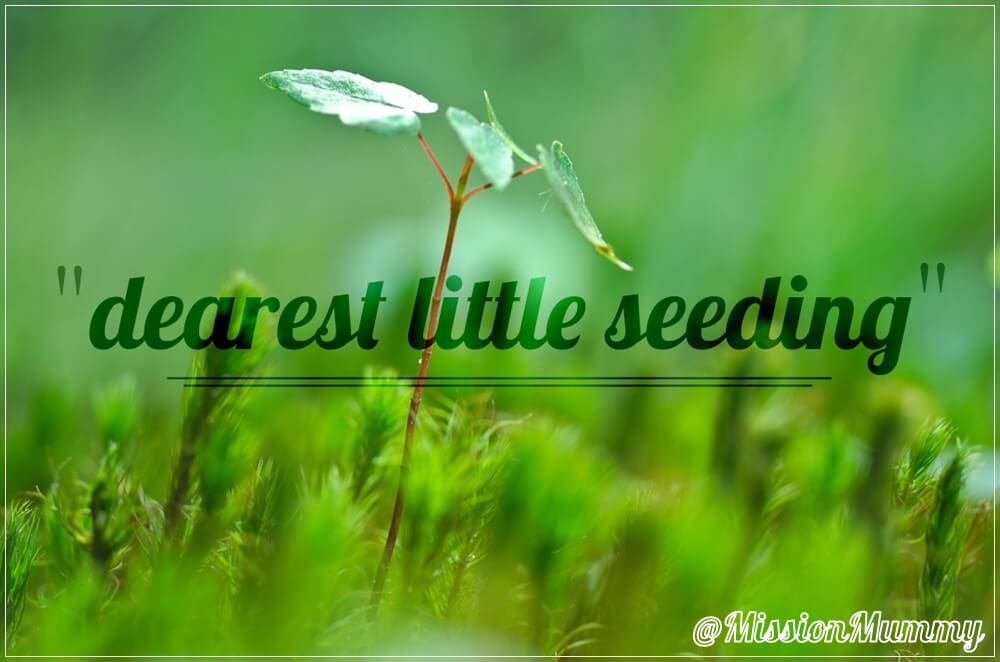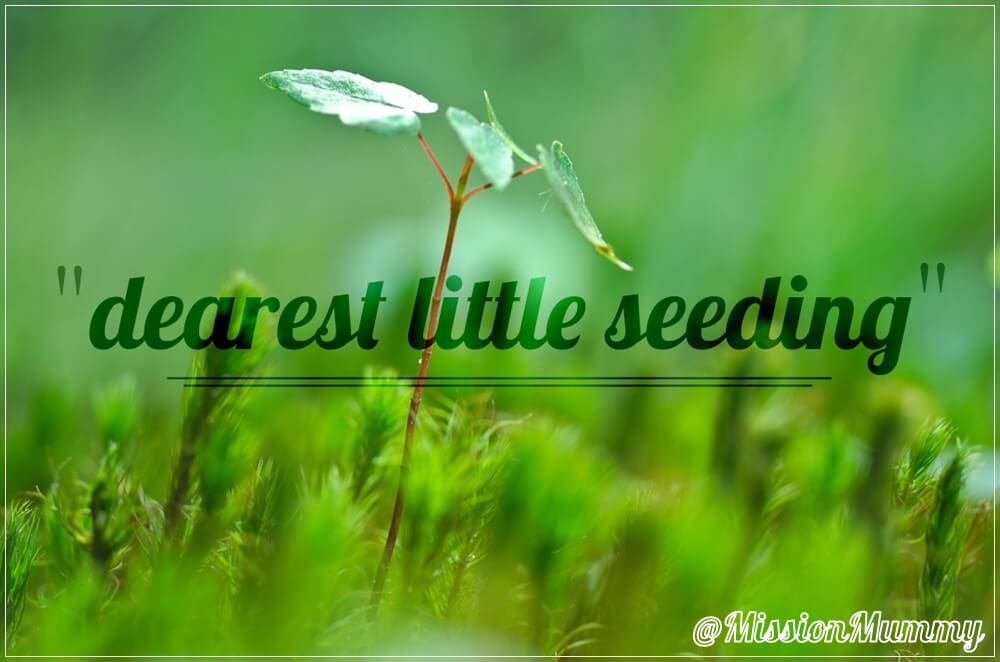 I've found myself loving the Facebook memory feature of late. January is full of eventful memories, interviews for jobs that weren't to be, excitement as I prepared to visit Serbia for the first time, early days in married life and adapting to Serbian celebrations. I found myself reading a set of house rules from when I was in a particularly tough place and wishing Velvet ashes would make the weeks theme 'home' so I could once again share them. Then, to my surprise, they did. It felt like answered prayer, to write the words I wish I'd known back then, the way home has become such a powerful word.
"Dearest little seeding, I'd like to welcome you home. I know it doesn't feel that way yet, this out of sync land full of strange words and barely perceptible norms. Perhaps your mission here will be little more than an elongated holiday with a purpose. Perhaps you'll never even come to consider this corner of the planet anything but slightly less alien, but it is home just the same. Perhaps, at first, home will only be the familiar bedding you brought with you, the hairbrush tangled with your locks on the side unit, and your shampoo in the shower. One day home may become the front door behind which your refuge lays or the building, the street, or even the sign that marks the village, town or city.
Some days it will still feel alien, even if years have passed. You'll hug close to stories of Abram, weary from the travels, knowing this is the land promised but unable to claim your position. Some days your supports will feel weak as wet paper, they will flop on your unsteady feet, the very ground quicksand to your enthusiasm, swallowing your resolve whole. But dearest little seedling, this is still your home. Other days you'll remember to lean into the strength of the universe curator, his spinning web of consequences will decorate your movements, make your clumsy graceful, and your friendships firm. Home will be an easy word though still only held by that which adorns your passport. But dearest little seedling, this too is your home.
Take it from the sapling, it's branches still weak and fragile but it's roots established, 'home' is a word you want to use. It was foretold that we would be the strangers in a land not our own, passers though looking for a home that fits like a key into the aching hole in our souls (Hebrews 11). This travelling and movement will redefine that word 'home' for you, it will break it's physical connection and leave you nestled in the arms where your true home always lay. It may be tempting to drop the word home or brandish it as a promised light at the end, but please don't.
Home is a powerful thing, home is the primal place of protection, it's the place you fight for, pour your love into, rearrange to accommodate, redefine as you grow. By calling this odd place home your heart will invest a little deeper, your roots grow a little firmer, your wandering stretch a little further, and your adaptability bend a little smoother. Call it home on the good days, the rough days, the days you feel safe and the days that safety laughs in your face. And if all else fails plan how to make it the home you will be of.
In my struggling days I wrote my homes plan, it was ideal, it still hits me when I read it. I'm still striving to live up to what I envisioned.
Inside these walls
nationality steps back and allows others in
and they bow to recognise the ground they walk on
inside these walls everyone is included
to the furthest reach of each individuals ability
those we enjoy and those we struggle with
inside these walls
love lives and breaths and allows imperfections
inside these walls
confusion is accepted
and tears are as valid as laughter
inside these walls
we build collectively rather than individually
things that last seconds and memories that last a lifetime
Oh my dearest little seeding, all will not be well, there will still be days you just can't cope, days of great sorrow, days your soul will ache for a faraway dream, but you don't build this place into a home on your own, you never have and you never shall."
Linking up with Velvet Ashes where the theme this week is "Home"