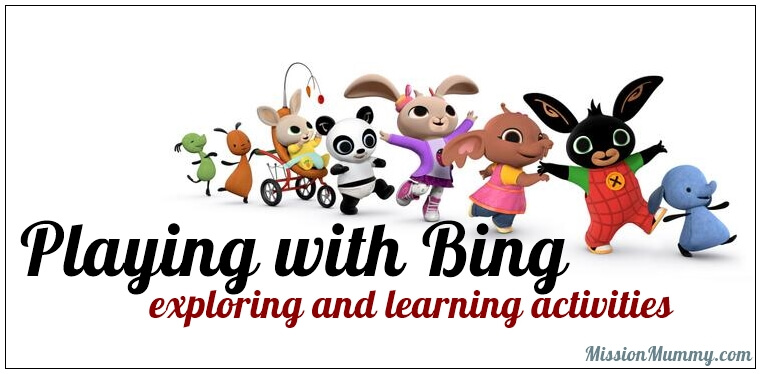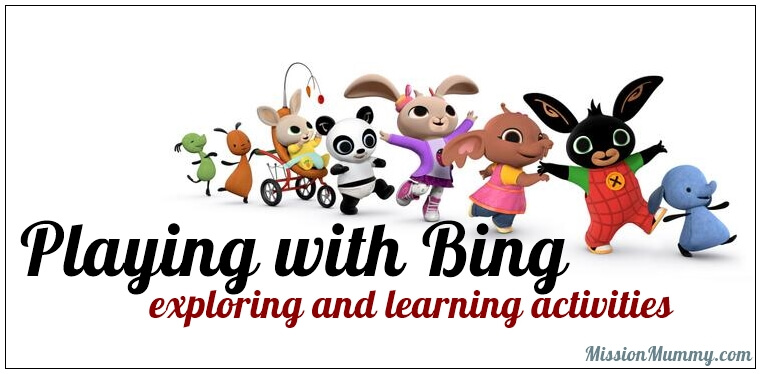 Our little one loves, loves, LOVES Bing Bunny.
Now that may sound odd as Bing is not exported to our part of the world at all, it's an import we've chosen and encouraged him to foster. Like all early obsessions, after watching ad nauseum any parent could be forgiven for shuddering at the title music. So, like the good youth worker I was, I adapted.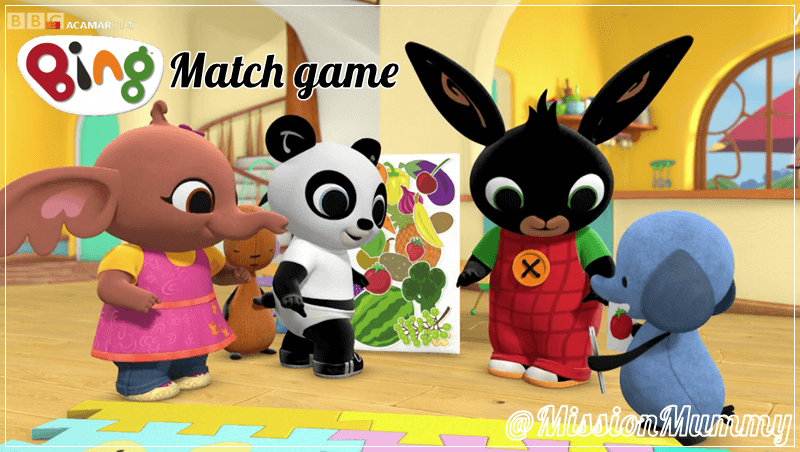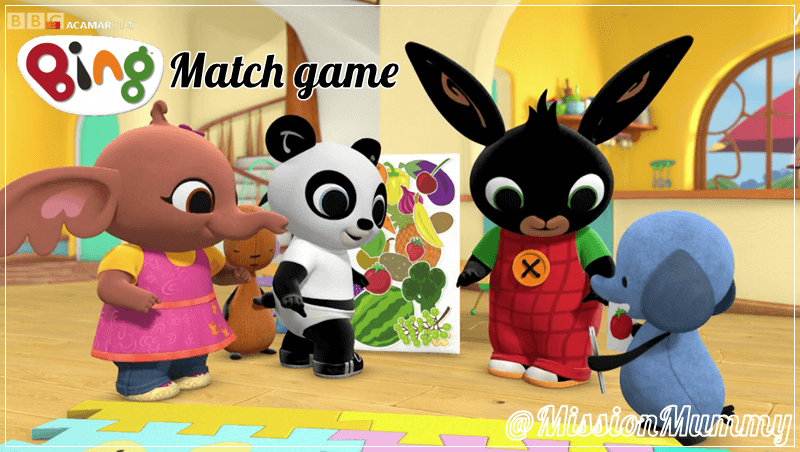 In the episode 'Lunchbox' Bing is seen at Ammar's creche playing a matching game. The word "match" is echoed again multiple times in the following story line. Matching is a great learning activity and one we'd love to foster in our little Bingster.
As he's only just starting to to discover matching we began with some pair cards. I made up 8 character cards (Bing Bunny, Flop, Coco, Sula, Charlie, Pando, Arlo the cat and Hoppity Voosh). We played first with just 4 and slowly added in the extra sets over time.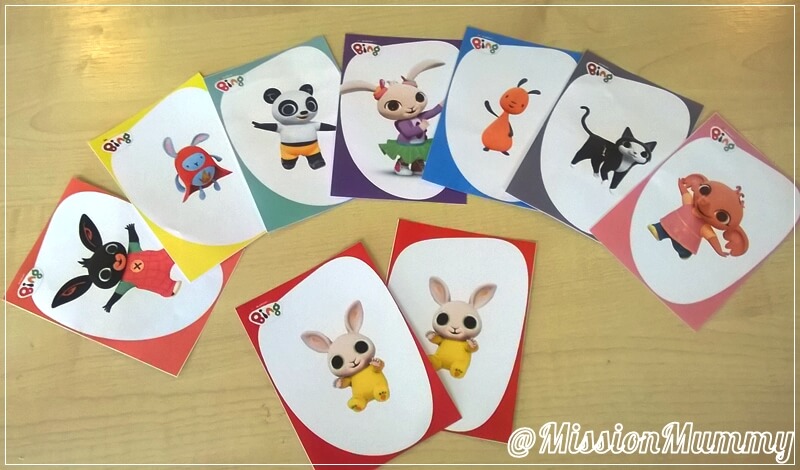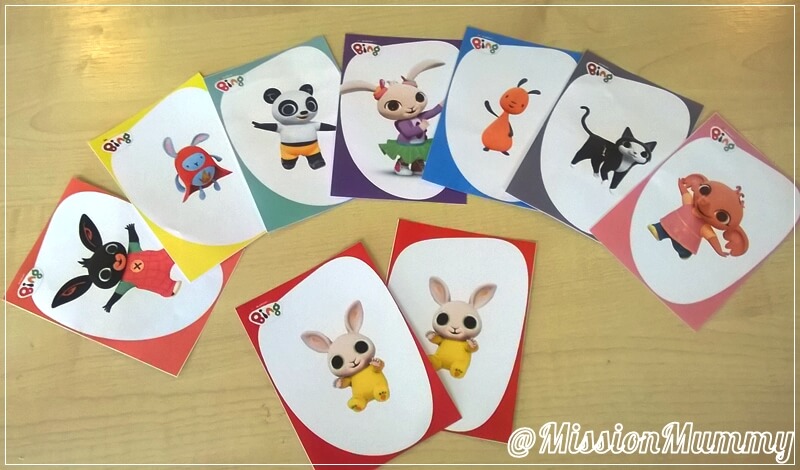 The game we play varies
1) Mummy holding out the card to be matched.
2) Mummy calling out the name and him finding both cards.
3) All the cards are faced down and matches are found as we turn all of them over.
What we are doing is cementing the concept and word 'match'. It's a concept that's central to much further learning. He loves it. Evident as he proudly runs to show his matching achievements to his daddy on the other side of the room.
We are not quite at the stage to move on yet, but when we do I hope to play the fruit and vegetable game from Bing.
In an effort to be prepared I went on the hunt for graphics. I found these free graphics from vector art box that worked a treat. Unlike the smaller 1/8 of a page pair cards, the fruit ones are a bit chunkier with four on a page, spread over 3 pages. Using the printers poster setting spread the background over 4 pages – luckily it fitted an old picture board we had laying about.
Sharing is caring so feel free to download and use the fruit and vegetable game!. (DOWNLOAD LINK)
Obviously not sharing the pair cards as I hold no rights to the graphics, but happy to share them privately via e-mail – "Kate ( at ) gfeef . co . uk", just pop 'Bing' in the title.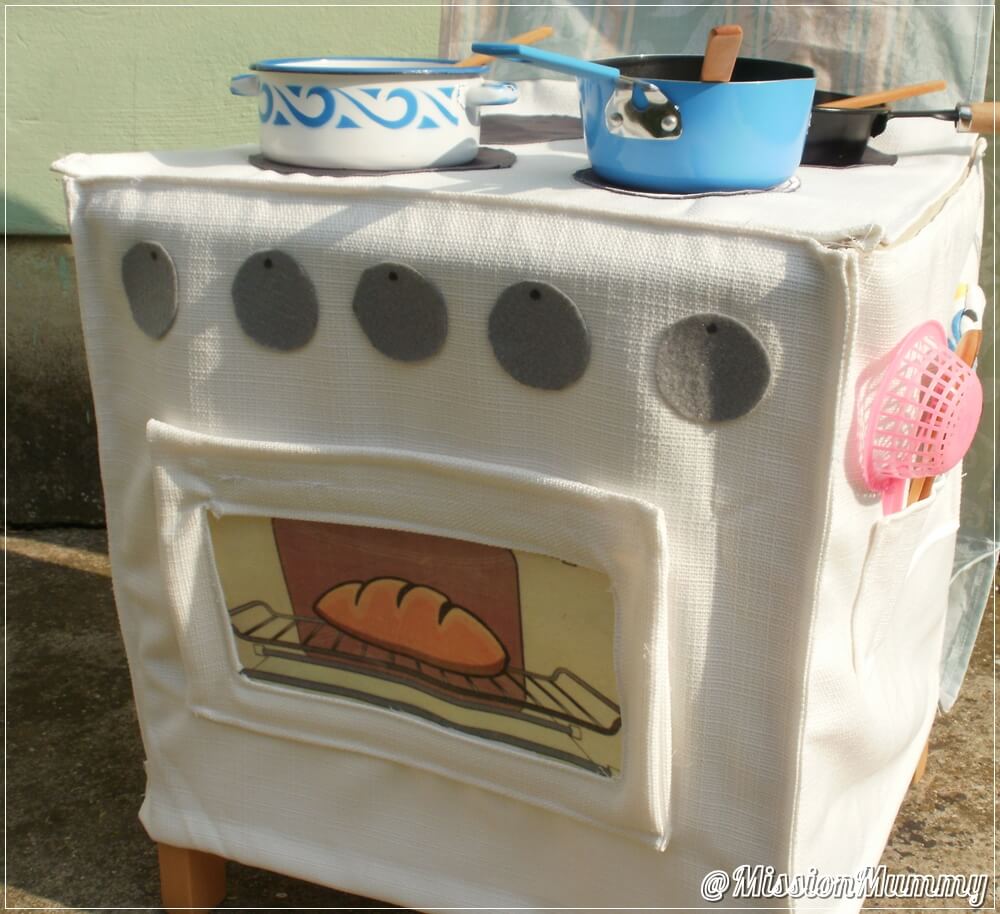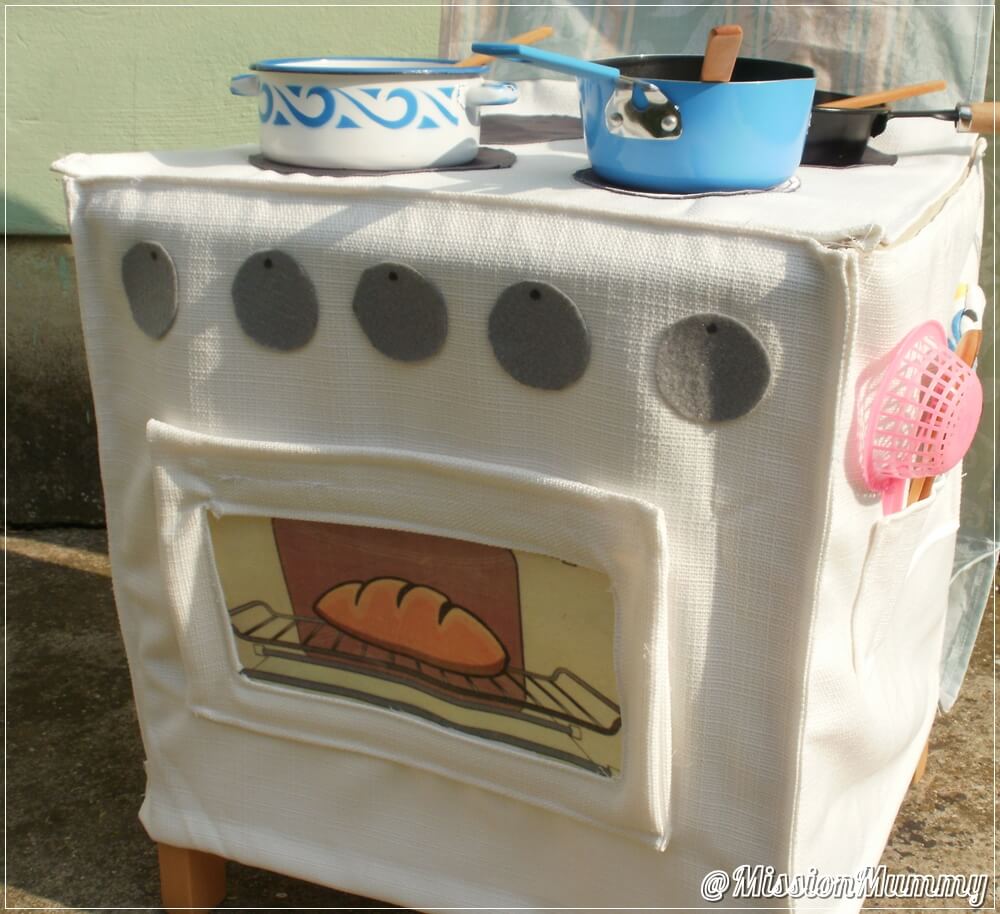 We've discovered imaginative play and it's changing the way we work with toys. It's a stage of play that really distinguishes the toddler, representational and symbolic thinking begins to develop and there is a great need to imitate. With the days already getting hotter and my first sunburn of the year out of the way I've got back the home-maker bug and cracked out the dusty sewing machine to help this stage really flourish.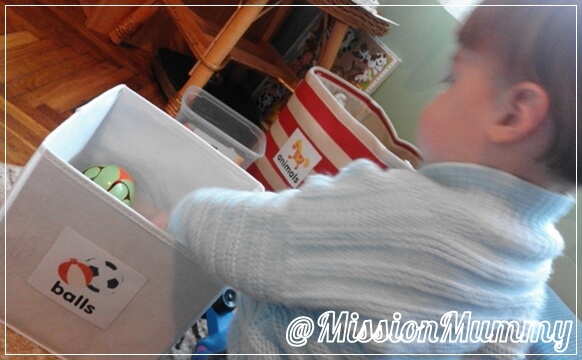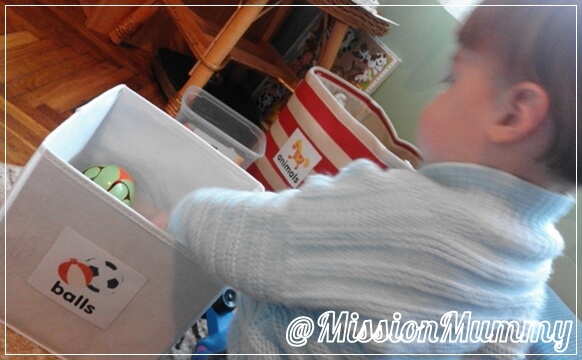 Firstly we've begun adding labels. Thanks to double sided tape and a colour printer big bold labels show Adam what's inside a box before he dives in. Initially this was done in the hope of starting toy rotation… then I realised we don't have enough storage, play-space, or toys to do this effectively – And I'm the first to admit Adam is not short on toys!
Toy Rotation: a method of rotating toys so the child becomes less bored, mostly advocated by parents who have huge basements for storage, dedicated playrooms or more toys than I ever owned in a lifetime?
However, boxes vaguely contain the mess, as well as making tidying up and selectively hiding much easier. While some are merely containers, others act as activity prompts – by clearing the floor of all but the box it invites Adam to delve inside.
The big project was to give Adam some role play space. While looking for play-space ideas I encountered the chair slip-covers that had been sewn into kitchens. These really suit our 2 room house set-up and replacing a couple of seams with zips allows me to fold every side flat.
Materials: white fabric, silver fabric (hobs), patterned fabric (back), t-shirt transfer paper (oven + shelves), thin card (hobs), acetate sheet (oven door), velcro (oven door), sticky back felt (dials), 2 zips, ribbon for back ties and an old oven glove.
Unable to find the bigger sized play pots and pans we bought or borrowed small versions that can get added to the kitchen cupboard (if they aren't wrecked). There are quite a few measurements I got wrong, and bit's I'd have done differently, but for a first try I'm rather happy. Adam has been having fun playing with it and loves eating his snack out of his saucepans.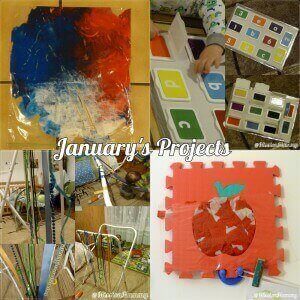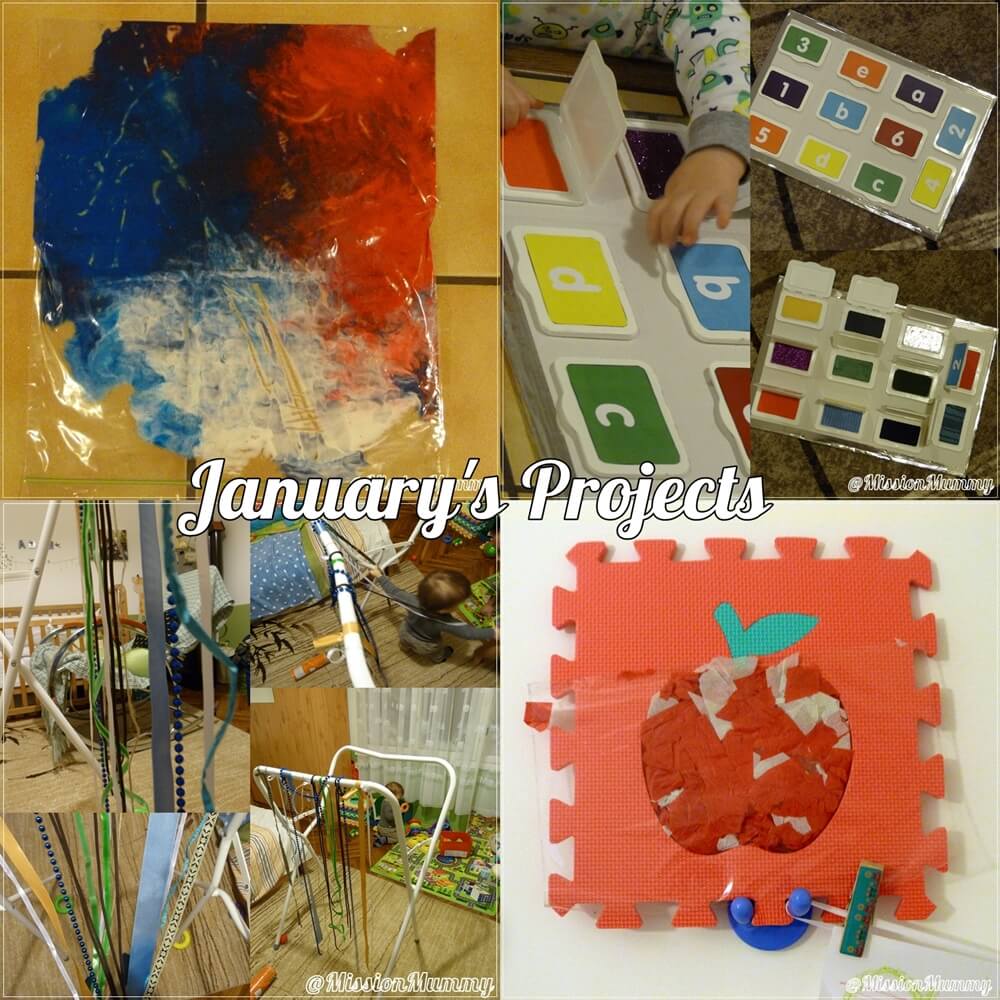 As part of my year of 'appreciate' I'm trying to note one thing I've really appreciated each day… I've challenged myself to add to that one activity I've deliberately orchestrated to do with Adam. With the cold and miserable January weather keeping us in, more days have been creative challenges, and less have been trips to the park!
Adam is at the stage he will taste chew everything he can put his hands on, plus I don't really want to be washing him down multiple times a day when parts of the house are quite cool – so messy play was limited, but we still found lots of things to do.
Some things were basic like crayon work, hand-prints or just running around the room from one large animal picture to the next (animals from birthday). Others required a little preparation using things on hand, like a batch of play-dough or some little knock to flash balls placed in a bottle to shake and roll and hide.
I photographed some and here are my favourite 4.
1. Ribbon run – We play with this a lot! I used our bath-stand as a base, everything is simply tied on. Various thickness's and textured ribbons, string, wrapping ribbon, paper ribbon, Christmas beading, and bootlaces. It's great to sit and explore the different textures, but the most fun comes from walking, crawling or dragging a parent through.
2. Reveal board – this was the most work but we love it. The base is a trimmed box with the two sides glued together and a silver sticky tape border. With a trusty glue gun I attached wet-wipe lids, using the inside as a template for the various scraps we collected around the house. A quick measurement of the original labels, made short work of creating a printout for the letter and number labels.
3. Tissue paper shapes – this was made with a foam floor piece and some sticky back plastic. We had fun pulling apart some red and white tissue paper and placing it in and out the shape. It was lovely to watch him realise that some was sticking. We started with 'Apple' as I'm hoping to work slowly though the alphabet this year.
4. Paint bags – after cleaning the white off a zip bag with a touch of nail varnish remover, I put a few squirts of paint in and taped the whole thing down on the table. The whole family had a smush at it, making tracks and writing. Sharp nails did break it a bit too easily but it's worth playing with until the end as you get a lovely effect as the paints blend.
Roll on February and the warmer days we hope!